VINTAGE, TIN B/O CAP FIRING OLD FASHION CAR! COMPLETE WithBOX! FULLY OPERATIONAL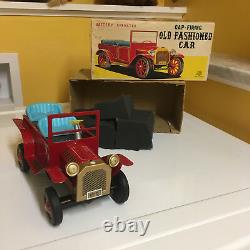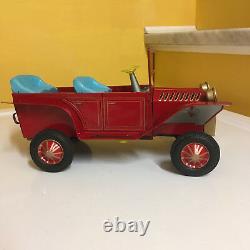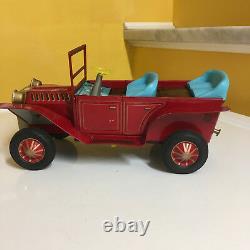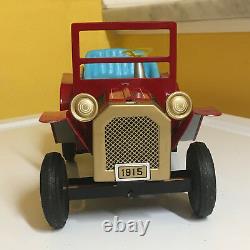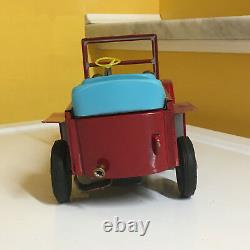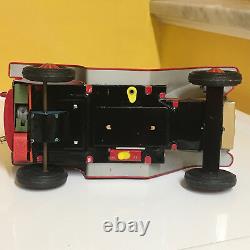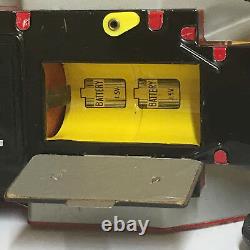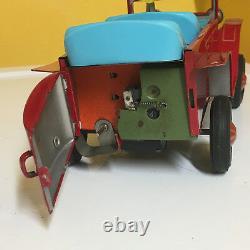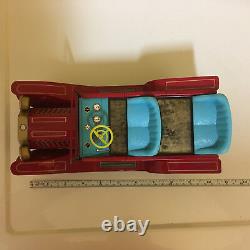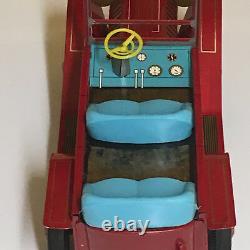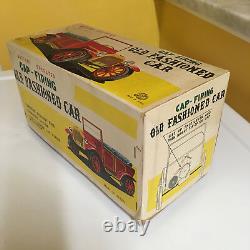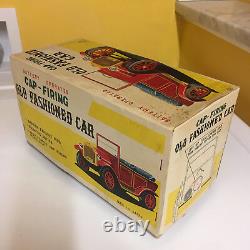 THIS PARTICULAR VEHICLE WAS MADE BY A SMALL MANUFACTURE ONCE BASED OUT OF JAPAN CALLED "UNITED". I HAVE BEEN TRYING TO RESEARCH THIS COMPANY FOR A WHILE NOW AND NEVER CAN LOCATE ANY INFORMATION ON THEM. BUT, TO DATE UNITED HAS EVADED ME!
L U FWIOB = L IGHTLY U SED F ULLY W ORKING I N. O RIGINA L B OX. I HAVE HAD THIS STASHED AWAY WITH A FEW HUNDRED (TO THOUSANDS) OR SO ADDITIONAL MODELS/ITEMS THAT I HAVE COLLECTED OVER THE PAST 5 DECADES AND/OR HAVE GATHERED ALONG THE WAY.
HAVING HUNDREDS OF MODEL CARS TO CHOOSE FROM, MOSTLY PORSCHE AND CORVETTES, I HAVE DECIDED TO START LISTING SOME OF THESE HERE ON E-BAY. 95% OF THESE ARE ONE-OF-A-KINDS LISTINGS AND I WILL DO MY BEST TO SHOW YOU AN ARRAY OF PICTURES AND DESCRIBE THEM TO THE BEST OF MY ABILITY. THIS RARE, VINTAGE & FULLY OPERATIONAL. UNITED "CAP FIRING OLD FASHION CAR".
IS NO EXCEPTION TO THIS RULE! AS YOU CAN SEE THE ORIGINAL BOX IS HERE AND IN GOOD TO VERY GOOD OVERALL CONDITION/SHAPE.
THE BASE STILL HAS ALL 8 ORIGINAL STAPLES HOLDING IT TOGETHER (AS DOES THE LID). YOU DO HAVE SOME DISCOLORATION ON THE TOP/LID.... THIS SORT OF LOOKS LIKE THE BEGINNING OF MOLD. WHICH IS POSSIBLE AS THIS BOX WAS INVOLVED IN MY FAMILIES MASSIVE AND EPIC WATER GUN BATTLE BACK IN THE MID 1970'S. THIS BOX WAS FORTUNATE TO ESCAPE ANY PERMANENT WATER STAIN/DAMAGE.
YOU HAVE SOME BOX RASH AND ON ONE OF THE LARGE SIDE PANELS YOU HAVE, HAND WRITTEN, THE PRICE OF "3.45". THIS BOX IS SOLID AND DISPLAYS VERY NICELY (AS PHOTOGRAPHED). THE BATTERY OPERATIONAL FEATURES OF THIS CAR ALL WORK PERFECTLY, TO INCLUDE THE CAP FIRING MECHANISM WHICH NOT ONLY WORKS PERFECTLY, IT STILL ADVANCES THE CAP ROLL AS WELL!
YOU'LL NOTICE THAT ON THE BOX THEY SAY "SMOKING EXHAUST PIPE"... THIS IS ACTUALLY THE RESIDUAL EFFECT OF THE CAP FIRING, SO NO CAPS....
I JUST WANT TO BE CLEAR ON THIS!! ALL OF WHAT YOU SEE IS ORIGINAL AND NOTHING IS MISSING. THE DETAIL ON THE CARS BODY IS ALL DONE VIA TIN LITHOGRAPHY. THE STEERING WHEEL AND SEATS ARE MADE OF PLASTIC AS ARE THE HEADLIGHTS. ON THIS CAR (BODY AND CHASSIS), YOU HAVE NO DINGS, CREASES, RUST OR CORROSION ANYWHERE TO BE FOUND.
ONE OF THE COOL FEATURES IS THAT THIS CAR HAS A FRONT END WHICH PIVOTS... THIS IS DONE THIS WAY BECAUSE THE REAR AXEL IS OFF CENTER.
THIS MEANS WHEN THE LEFT REAR SIDE IS LOW, THE RIGHT REAR SIDE IS HIGH. THIS GIVES YOU THE IMPRESSION OF AN OLD FASHION CAR..... PUTTING ALONG WITH IT'S ROUGH (IF ANY) SUSPENSION. ALL THE WHILE THE FRONT END IS FOLLOWING THE REAR END'S ACTION/DIRECTION. THEY CALL THIS "ECCENTRIC ACTION" ON THE BOX!
THE CHASSIS ON THIS CAR HAS A FEW SHALLOW USAGE MARKS AS SHOULD BE EXPECTED FROM A USED AND PLAYED WITH TOY! HOWEVER, THIS SMALL AMOUNT OF PLAY WEAR THAT YOU DO FIND IS FAR LESS THEN WHAT ONE WOULD EXPECT FROM A TOY OF THIS ERA/TIME.
THE BATTERY COMPARTMENT AND TIN BATTERY LID ARE AS NEW, YOU HAVE NO ISSUES HERE AT ALL. THE BATTERY CONTACTS ARE ORIGINAL AND FLAWLESS. THE WHEELS ARE A SEMI-PLIABLE RUBBER WITH NICE TIN LITHOGRAPHY HUB CAPS. THE ORIGINAL BOX, AS MENTIONED ABOVE IS IN GOOD CONDITION AND DISPLAYS WELL WITH THE CAR.
HERE I ASK THAT YOU TAKE A GOOD LOOK AT MY PICTURES AS THESE DO A MUCH BETTER JOB OF SHOWING YOU EXACTLY WHAT IT IS THAT YOU WILL BE RECEIVING FROM ME VS. IF YOU HAVE ANY QUESTIONS, PLEASE FELL FREE TO ASK AWAY...
I TAKE PRIDE IN MY MODELS THAT I OFFER HERE IN THE E-BAY WORLD. I DO HAVE OPTIONS AND I CHOOSE TO OFFER ONLY THE VERY FINEST THAT I HAVE AVAILABLE. I TEST EVERYTHING PRIOR TO LISTING IT AND ONCE AGAIN PRIOR TO SENDING IT OFF.
I DO THIS SO WE WILL BOTH BE VERY HAPPY WITH THE END RESULT, IT'S THE ONLY WAY I DO THINGS! ONCE AGAIN, PLEASE TAKE A GOOD LOOK AT MY PICTURES AS THEY DO BECOME AN IMPORTANT PART OF MY DESCRIPTION AND IF YOU HAVE ANY QUESTIONS OR DESIRE SOME ADDITIONAL PICTURES, PLEASE FEEL FREE TO CONTACT ME VIA E-BAY MESSAGING AND I WILL DO THE REST! THIS UNITED, VINTAGE, BATTERY POWERED. "CAP FIRING OLD FASHION CAR". IS AN EXCELLENT EXAMPLE OF A MODEL AND A TIME THAT HA S LONG PASSED US BY.
THIS IS A RELATIVELY NEW STORE FOR ME HERE ON E-BAY, BUT, I COME WITH A WELL OILED AND POLISHED TRACK RECORD! I SPECIALIZE IN PRIMARILY THE AUTOMOTIVE FIELD AND I CONCENTRATE WITH/ON PORSCHE, BENTLEY, AUDI AND. I HAVE A UPS ACCOUNT AND MOST OF MY OFFERINGS HERE SHALL BE SENT THAT WAY. I PACK EACH AND EVERY ITEM MYSELF AND DO SO AS IF I WERE RECEIVING IT. UNFORTUNATELY, IN THE PAST I HAVE HAD SOME RUN-IN'S WITH SOME SCRUPULOUS FOLKS WHO BY THEIR VERY NATURE "DO NOT PLAY WELL WITH OTHERS".
SO PLEASE DO NOT FAULT ME WHEN IT'S TIME TO LEAVE YOUR FEEDBACK AS I HAVE NO MORE CONTROL OVER THIS THEN YOU DO! INTERNATIONAL BUYERS, PLEASE READ THE VERY BOTTOM OF THIS SECTION AS THIS DOES APPLY TO YOU...... AS MENTIONED ABOVE, THIS IS A NEW AREA FOR ME (HERE ON E-BAY) AND I DO TRY MY BEST TO DO AS GOOD AS I CAN.
THIS HAS BECOME A FULL TIME BUSINESS FOR ME AND I REALLY ENJOY DOING IT. I WILL CONTINUE TO DO SO TILL IT BECOMES A BURDEN AND I CAN NO LONGER ENJOY IT. I WILL BE ADDING TO THIS STORE WEEKLY (OR TRYING TO) AND HOPEFULLY YOU WILL SEE THAT I DO EXACTLY WHAT I SAY AND DO SO IN A VERY TIMELY FASHION. IT IS MY INTENTION TO LIST ONE OR TWO DIFFERENT MODELS EACH AND EVERY DAY (IF AT ALL POSSIBLE), OR UNTIL SUCH A TIME WHEN I GET BURNT OUT FROM DOING SO.
IT MIGHT BEHOOVE YOU TO CHECK IN WITH ME OFTEN AS YOU'LL NEVER KNOW WHEN AND IF I WILL OFFER THAT SPECIAL SOMETHING THAT WILL ROUND OUT OR COMPLETE YOUR COLLECTION! THIS IS WHERE I THANK YOU FOR YOUR TIME IN READING ALL OF THE ABOVE. IN ORDER TO VIEW MY LISTINGS IN A CONCISE AND ORDERLY FASHION, ALL YOU NEED DO IS TO LOCATE THAT SMALL.
DOOR A TOP THIS PAGE. THIS IS LOCATED JUST BELOW MY SELLERS ID AND FEEDBACK TALLY. THE VIRTUAL DOOR TO MY STORE HERE ON E-BAY! IN ORDER TO STREAMLINE YOUR SEARCH FURTHER, ONCE YOUR IN MY STORE, TO THE LEFT YOU WILL SEE A "SEARCH" BAR, IF YOU'D LIKE TO SEE JUST MY MODEL CARS, JUST TYPE IN "MODEL CAR" AND JUST MY LISTED MODEL CARS WILL POP-UP. IF YOU'D LIKE TO SEE SOME LP'S...
I THINK YOU GET THE GIST OF THIS NOW! I HAVE A LIST OF CATEGORIES THAT WILL ASSIST YOU IN STREAMLINING YOUR SEARCH AS WELL. I HAVE JUST ADDED A NEWER CATEGORY "ANTIQUE/VINTAGE TOYS" TO HELP KEEP SOME OF THESE MODELS SEPARATE FROM MY OTHER LISTINGS HERE. ONCE AGAIN, I THANK YOU FOR YOUR CONSIDERATIONS ON THIS VE RY LIGHTLY USED, TIN WITH PLASTIC COMPONENTS, COMPLETE & FULLY OPERATIONAL, BATTERY POWERED "CAP FIRING OLD FASHION CAR" WHICH WAS DISTRIBUTED/MARKETED BY UNITED WHICH.
INCLUDES THE ORIGINAL BOX AND FOR ANY OTHER CONSIDERATIONS THAT YOU MIGHT HAVE GIVEN ME IN THE PAST...... This item is in the category "Toys & Hobbies\Electronic, Battery & Wind-Up\Battery Operated\Pre-1970".911" and is located in this country: US. This item can be shipped worldwide.
Country/Region of Manufacture: Japan
Material: tin & plastic
Year: mid to late 1960's.


---