VINTAGE MASUDAYA (MODERN TOYS), TIN, VOLKSWAGEN FULLY WORKING WithBOX. SWEET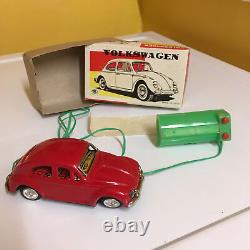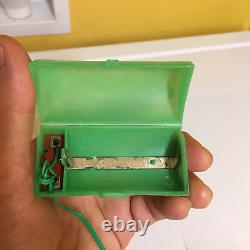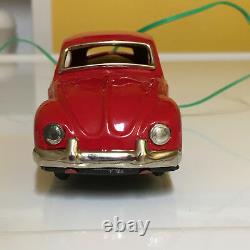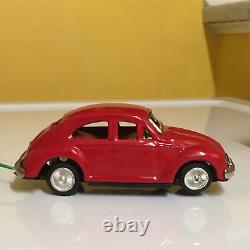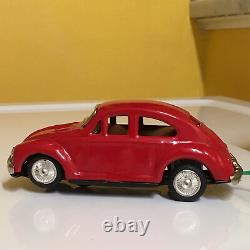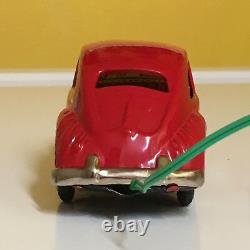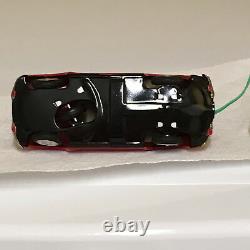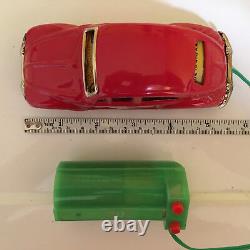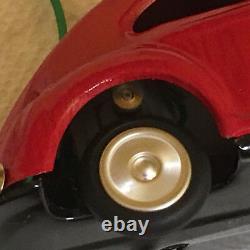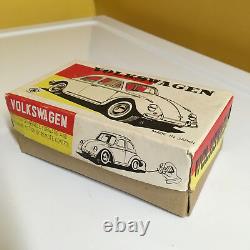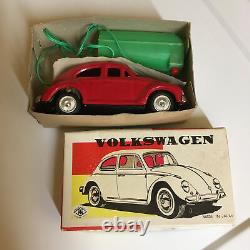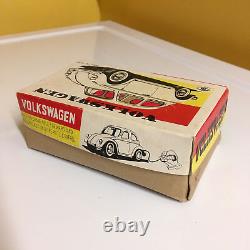 THIS MODERN TOYS MASUDAYA TOYS CO. MODEL (HEREAFTER SIMPLY REFERRED TO AS "VW") IS THEIR MODEL/STOCK NUMBER: 3575. LUIOB = L IGHTLY U SED I N O RIGINAL B OX. THIS HAD BEEN STASHED AWAY WITH A FEW HUNDRED OR SO ADDITIONAL MODELS ALL OF WHICH I HAVE PERSONALLY OWNED FOR UP TO 5 DECADES!
HAVING HUNDREDS (TO THOUSANDS) OF MODEL CARS TO CHOOSE FROM, MOSTLY PORSCHE AND CORVETTES, I HAVE DECIDED TO START LISTING SOME OF THESE HERE ON E-BAY. 9 5 % OF THESE ARE ONE-OF-A-KINDS LISTINGS AND I WILL DO MY BEST TO SHOW YOU AN ARRAY OF PICTURES AND DESCRIBE THEM TO THE BEST OF MY ABILITY. THIS RARE MODERN TOYS VW IS NO EXCEPTION TO THIS RULE! THIS MODEL MEASURES OUT AT CLOSE TO 5 1/4 INCHES LONG (13.5CM).
IT IS IN EXCELLENT OVERALL WORKING CONDITION AND ALL OF THE ORIGINAL FEATURES STILL WORK AS DESIGNED AND DESCRIBED ON THE ORIGINAL PACKAGING. HERE'S HOW IT WORKS.... AS WITH ALL BATTERY OPERATED MODELS, THE FIRST THING YOU HAVE TO DO IS TO INSTALL THE BATTERY/BATTERIES! THIS VW TAKES A SINGLE SIZE "D" BATTERIES (NOT INCLUDED) WHICH IS INSTALLED IN THE HAND HELD PLASTIC REMOTE CONTROL. ONCE YOU'VE INSTALL THIS BATTERIES AS INSTRUCTED, YOU THEN CLOSE AND LOCK DOWN THE BATTERY COVER WITH THE PLASTIC TAB STILL INTACT AND LOCKS THE REMOTE CONTROL DOWN VERY NICELY. NOW PLACE THIS VW DOWN ON A HARD SURFACE. PLEASE KEEP IN MIND THAT NONE OF THESE VINTAGE MODELS WERE DESIGNED WITH CARPETS IN MIND. IN FACT, THE ADDITIONAL DRAG FROM THE PILE COULD CAUSE DAMAGE TO THE DELICATE INTERNAL GEARS, SO I WOULD STRONGLY SUGGEST THAT YOU KEEP THIS MODEL AWAY FROM ANY CARPET.
NOW YOU SIMPLY DEPRESS ONE OF THE TWO BUTTONS ON THE HAND HELD REMOTE CONTROL. WHEN ONE BUTTON IS DEPRESSED THE VW WILL GO FORWARDS, WHEN THE OTHER BUTTON IS DEPRESSED IT WILL GO BACKWARDS AND AS IT IS MOVING BACKWARDS, IT IS VEERING OFF TO ONE SIDE. THIS IS HOW YOU CONTROL THIS VW AND TO GET IT TO GO WHERE YOU WANT IT TO GO. GRANTED IT TAKES SOME GETTING USE TO, BUT, KEEP IN MIND THAT THE TECHNOLOGY BEHIND THIS VW IS ANTIQUATED AS COMPARED TO TODAY'S TOYS! THE ENGINE, BODY, CHASSIS, REMOTE CONTROL AND WIRING ARE ALL 100% ORIGINAL TO THIS VW.
THIS VW'S BODY IS IN ALL AROUND EXCELLENT TO SHOW-CASE OVERALL CONDITION WITH VERY, VERY FEW SIGNS OF ANY PLAYWEAR (IF ANY). IT IS MADE TOTALLY OF TIN WITH THE FRONT GRILL AND HEAD LIGHTS AS WELL AS THE REAR BUMPERS BEING MADE OUT OF TIN WHICH IS CHROMED. YOU HAVE NO SIGNS OF ANY RUST OR CORROSION AND A SLIGHT SIGN OF TARNISH IS ON ONE OF THE FRONT HEADLIGHTS (THE LEFT HAND SIDE).
THE TIN LITHOGRAPHY THROUGHOUT THIS VW IS STILL CLEAR AND COLORFUL. THE INTERIOR IS PRINTED ENTIRELY ON PAPER AND IS ALSO ORIGINAL TO THIS VW. ALL OF THE TIRES ARE MADE OF A FIRM RUBBER AND TOUCH THE GROUND AND SPIN FREELY.
THE WEIGHT OF THIS VW IS WHAT PROPELS THIS MODEL. YOU HAVE A SMALL BRASS GEAR WHICH COMES DIRECTLY OFF OF THE TINY ELECTRIC ENGINE. AND WHEN THIS VW IS PLACED DOWN ON THE GROUND, THE WEIGHT (AS LITTLE AS IT IS) IS ENOUGH TO PUSH DOWN ON THIS GEAR AND PROPEL THIS VW IN EITHER DESIRED DIRECTION. AS IT BACKS UP, THE HIDDEN FIFTH (5TH) WHEEL WHICH IS IN CONTACT WITH THE GROUND AS THE FRONT TWO (2) WHEELS JUST TETHER OFF THE GROUND BALANCING ON THIS CENTERED FIFTH WHEEL, COMES INTO PLAY. HERE IS SLIDES INTO IT'S CHANNEL AND FORCES THE VW TO VEER OFF TO ONE SIDE.
WHEN YOU CHANGE DIRECTIONS (BACK TO FORWARDS), THIS VW WILL INSTANTLY GO STRAIGHT ONCE AGAIN. ALL FOUR (4) HUB CAPS ARE MADE OUT OF TIN AND YOU HAVE NO RUST, CORROSION ON ANY OF THESE HUBCAPS.
HOWEVER, YOU DO HAVE SOME TARNISH CREEPING IN! THE CHASSIS IS IN EXCELLENT CONDITION WITH NO ISSUES AND IS 100% ORIGINAL. THIS IS MADE ENTIRELY OUT OF TIN, HERE YOU HAVE NO RUST, CORROSION, DINGS, DENTS, SCRATCHES.... WELL NOTHING TO SPEAK OF OTHER THEN IT LOOKS LIKE NOS (NEW OLD STOCK). THE ORIGINAL BOX IS PRESENT AND IN EXCELLENT TO SHOWCASE OVERALL SHAPE/CONDITION.
YOU HAVE SOME SLIGHT DEPRESSION ON THIS BOXES LID AS AT ONE TIME, IT WAS STACKED IN A PILE OF LIKE SIZE MODELS. YOU HAVE NO ADDED TAPE OR GLUE FOUND ANYWHERE ON THIS BOX.
YOU HAVE VERY LITTLE SHELF RASHING AND AS A WHOLE IT'S A VERY NICE BOX CERTAINLY WORTHY OF DISPLAYING! ALSO NOTE THAT NO INSTRUCTIONS EVER CAME WITH THIS MODEL, SO PLEASE DO NOT EXPECT TO SEE ANY.
HERE I DO ASK THAT YOU LOOK AT AND INSPECT MY PICTURES AS THEY DO A FAR BETTER JOB SHOWING YOU THE ACTUAL SHAPE/CONDITION OF THIS BOX AND THE VW THEN I COULD EXPLAIN HERE IN WORDS. I TAKE PRIDE IN MY MODELS THAT I OFFER HERE IN THE E-BAY WORLD. I DO HAVE OPTIONS AND I CHOOSE TO OFFER ONLY THE VERY FINEST THAT I HAVE AVAILABLE. I TEST EVERYTHING PRIOR TO LISTING THEM AND ONCE AGAIN PRIOR TO SENDING THEM OFF.
I DO THIS SO WE WILL BOTH BE VERY HAPPY WITH THE END RESULT, IT'S THE ONLY WAY I DO THINGS! I LOVE THIS ONE, "I HAVE NOT TESTED THIS MODEL AS I HAVE NO BATTERIES OF THIS SIZE"!! AFTER ALL, HOW HARD IS IT TO TOSS IN A FEW BATTERIES OR TO WIND UP A MODEL??
PRETTY DAMN EASY IF YOU ASK ME. THIS MODERN TOYS "VOLKSWAGEN" IS FULLY TESTED AND WILL BE ONCE AGAIN, PRIOR TO ME PACKAGING THIS UP. PLEASE NOTE THAT THESE PICTURES DO BECOME A VITAL AND IMPORTANT PART OF THE DESCRIPTION.
THIS VINTAGE VOLKSWAGEN IS AN EXCELLENT EXAMPLE OF A MODEL AND OF AN ERA THAT HAS LONG PASSED US BY. THIS IS A RELATIVELY NEW STORE FOR ME HERE ON E-BAY, BUT, I COME WITH A WELL OILED AND POLISHED TRACK RECORD!
I SPECIALIZE IN PRIMARILY THE AUTOMOTIVE FIELD AND I CONCENTRATE WITH/ON PORSCHE, BENTLEY, AUDI AND. I HAVE A UPS ACCOUNT AND MOST OF MY OFFERINGS HERE SHALL BE SENT THAT WAY. I PACK EACH AND EVERY ITEM MYSELF AND DO SO AS IF I WERE RECEIVING IT. UNFORTUNATELY, IN THE PAST I HAVE HAD SOME RUN-IN'S WITH SOME VERY SCRUPULOUS INTERNATIONAL BUYERS, WHO BY THEIR NATURE.
"DO NOT PLAY WELL WITH OTHERS". INTERNATIONAL BUYERS, PLEASE READ THE VERY BOTTOM OF THIS SECTION AS THIS DOES APPLY TO YOU... SO PLEASE BE PREPARED FOR THIS ON YOUR END! AS MENTIONED ABOVE, THIS IS A RELATIVELY NEW AREA FOR ME (HERE ON E-BAY) AND I DO TRY MY BEST TO DO AS GOOD AS I CAN.
THIS HAS BECOME A FULL TIME BUSINESS FOR ME AND I REALLY ENJOY DOING IT. I WILL CONTINUE TO DO SO TILL IT BECOMES A BURDEN AND I CAN NO LONGER ENJOY IT. I WILL BE ADDING TO THIS STORE WEEKLY (OR TRYING TO) AND HOPEFULLY YOU WILL SEE THAT I DO EXACTLY WHAT I SAY AND DO SO IN A VERY TIMELY FASHION. THIS IS WHERE I THANK YOU FOR YOUR TIME IN READING ALL OF THE ABOVE. IN ORDER TO VIEW MY LISTINGS IN A CONCISE AND ORDERLY FASHION, ALL YOU NEED DO IS TO LOCATE THAT SMALL.
DOOR A TOP THIS PAGE. THIS IS LOCATED JUST BELOW MY SELLERS ID AND FEEDBACK TALLY.
THE VIRTUAL DOOR TO MY STORE HERE ON E-BAY! IN ORDER TO STREAMLINE YOUR SEARCH FURTHER, ONCE YOUR IN MY STORE, TO THE LEFT YOU WILL SEE A "SEARCH" BAR, IF YOU'D LIKE TO SEE JUST MY MODEL CARS, JUST TYPE IN "MODEL CAR" AND JUST MY LISTED MODEL CARS WILL POP-UP. IF YOU'D LIKE TO SEE SOME LP'S... I THINK YOU GET THE GIST OF THIS NOW!
I HAVE A LIST OF CATEGORIES THAT WILL ASSIST YOU IN STREAMLINING YOUR SEARCH AS WELL. ONCE AGAIN, I THANK YOU FOR YOUR CONSIDERATIONS ON THIS LIGHTLY USED (AT BEST), FULLY OPERATIONAL, MODERN TOYS MASUDAYA TOYS CO. LTD BATTERY OPERATED WITH A REMOTE CONTROL"VOLKSWAGEN" IN IT'S FACTORY ORIGINAL BOX WITH IT'S ORIGINAL PROTECTIVE PAPER INSERT, AS WELL AND FOR ANY OTHER CONSIDERATIONS THAT YOU MIGHT HAVE GIVEN ME IN THE PAST..... This item is in the category "Toys & Hobbies\Electronic, Battery & Wind-Up\Battery Operated\1970-1989".
911" and is located in this country: US. This item can be shipped worldwide.
Modified Item: No
Country/Region of Manufacture: Japan
Custom Bundle: No
Theme: Cars
Gender: UNISEX & COLLECTORS
ITEM LOCATION:: DRAWER.
MORDERN TOY ITEM NUMBER:: 3575.
Year: CIRCA EARLY 1970'S.

Age Level: 4-7
Brand: MODERN TOYS (MASUDAYA TOYS CO., LTD)
Recommended Age Range: AGES 3 AND OLDER.



---