Vintage, Fully Tin & Fully Working Teathered Remote Control Police Car In Box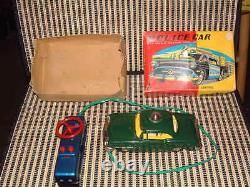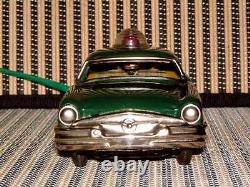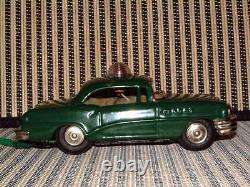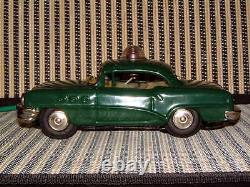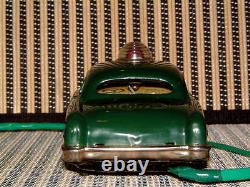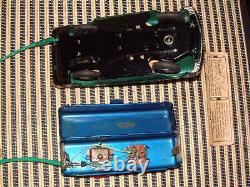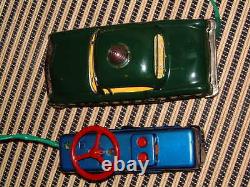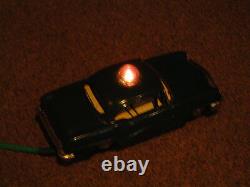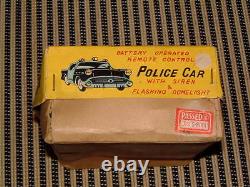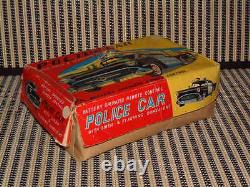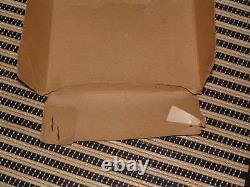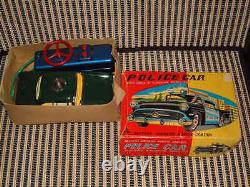 THE ENTIRE CAR TO INCLUDE THE CHASSIS AND RE MOTE CONTRO L IS MADE OF TI N. LUWOB = L IGHTLY U SED W ITH O RIGINAL B OX. THIS IS ONE OF THOSE ITEMS THAT WHEN I RECEIVED AS A YOUTH, I HAD VERY LITTLE INTEREST IN IT, SO THERE I T SAT IN THE ORIGINAL BOX, UNTOUCHED AND UNUSED TO THIS DAY! HAVING HUNDREDS OF MODEL CARS TO CHOOSE FROM, MOSTLY PORSCHE AND CORVETTES, I HAVE DECIDED TO START LISTING SOME OF THESE HERE ON E-BAY.
95% OF THESE ARE ONE-OF-A-KINDS LISTINGS AND I WILL DO MY BEST TO SHOW YOU AN ARRAY OF PICTURES AND DESCRIBE THEM TO THE BEST OF MY ABILITY. THIS POLICE CAR IS NO EXCEPTION TO THIS RULE!
T HE EXACT DATE THIS WAS MADE/OFFERED ELUDES ME, BUT IF I WERE TO GUESS, I WOULD SAY THIS IS FROM THE MID TO LATE 1960'S. THE BODY IS IN REALLY GOOD OVERALL CONDITION WITH ONLY A COUPLE OF SMALL AREAS OF CONCERN.
ONE BEING THE TRUNK, WHICH HAS TWO DIMPLES STYLE MARKS/INDENTATIONS ON IT. THE SECOND BEING THE THE END OF THE CABLES SHE ATH, CLOSEST TO THE CAR HAS CONTRACTED OVER THE DECADES AND HAS EXPOSED THE ORIGINAL WIRES AND S TEERING CABLE. MANY YEARS AGO, I ADDED A SMALL PIECE OF GREEN ELECTRICAL TAPE TO PREVENT THIS EXPOSURE FROM DOING ANY DAMAGE TO THE TWO POWER CABLES. IT WORKED AS A COUPLE OF DECADES LATER, THIS MODEL RUNS LIKE NEW! ONCE Y OU P LACE THE TWO "D" SIZE BATTERIES IN THE REMOTE CONTROL, THIS CAR SPEEDS OFF IN EITHER DIRE CTION, ONCE YOU DEPRESS EITHER BUTTON. WHEN EITHER FORWARD OR REVERSE IS PRESSED, THE LIGHT ON THE ROOF FLASHES AND THE CAR MAKES A SIREN TYPE NOISE. THE STEERING IS ONE OF THE EASIEST I HAVE EXPERIENCED AS IT TURNS WITH EASE IN BOTH DIRECTIONS. THE FRONT AND REAR BUM P ERS ARE STILL SHINY AND BRIGHT. ALL FOUR WHEELS/TIRES ARE IN SHOWCASE CONDITION AND HAVE NO CRACKS OR FLAT SPOTS. AL L FOUR ORIGINAL HUB CAPS ARE STILL FACTORY ATTACHED AND N EEDLESS TO SAY ORIGINAL, THESE SHOW NO SIGNS OF AGING! THE CHASSIS IS ALSO 100% TIN A S IS THE SMALL TETHERED REMOTE CONTROL. NO CORROSION EXISTS ON THE TERMINALS AS THESE ARE CLEAR OFF ANY DEFECTS. YOU DO HAVE SOME VERY SLIGHT SIGNS OF RUST ON THE INSIDE OF THE LID OF THE BATTERY BOX. THIS IS VERY MIN OR, BUT, SHOULD BE POINTED OUT NONE -THE-LESS. THE REMOTE CONTROL DOES WORK WELL, BUT, THESE OLDER TYPE MODELS DO L EAVE A LOT TO BE DESIRED AS FAR AS QUALITY GOES. THE BATTERIES NEED TO BE PLACED JUST RIGHT FOR THIS MODEL TO WORK AND ONCE YOU FIGURE THIS OUT, YOU QUICKLY ADJUST TO IT AND GO! ONCE AGAIN, THIS CAR WORKS GREAT AND MOVE S ALONG PRETTY QUICKL Y.... PLEASE TAKE A GOOD LOOK AT MY PICTURES A S THEY DO A GOOD JOB SHOWING EXACTLY WHAT YOU WILL BE RECEIVING. THE ORIGINAL BOX OFFERED HERE IS IN PRETTY ROUGH S HAPE/CONDITION. NO TAPE OR GLUE HAS EVER BEEN ADDED AND YOU HAVE ONE END OF THE LID WHICH HAS BEEN TORN AT BOTH CORNE RS.
IN ADDITION, YOU HAVE A TEAR GOING ACROSS THE LID, CLOSE TO DEAD CENTER. THE COLORS AND GRAPHICS ARE IN GREAT SHAPE /CONDITION.
THE BOTTO M IS PLAIN AND THE ORIGINAL 4 STAPLES HOLD THIS TOGETHER. AFTER ALL JUST HOW DIFFICULT IS IT TO TEST A MODEL?
ALL ONE NEED DO IS TO TOSS IN A FEW BATTERIES AND GIVE IT A GO, OR A SIMPLE PUSH TO SEE IF THE FRICTION DRIVE IS WORKING! THIS TIN POLICE CAR IS FULLY TESTED (AND WORKS PERFECTLY) AND WILL BE FULLY TESTED ONCE MORE, JUST PRIOR TO SENDING IT OFF. I DO THIS TWICE, JUST TO MAKE SURE THAT THE FIRST TESTING WAS NOT A FLUKE! I TAKE PRIDE IN MY MODELS THAT I OFFER HERE IN THE E-BAY WORLD. I DO HAVE OPTIONS AND I CHOOSE TO OFFER ONLY THE VERY FINEST THAT I HAVE AVAILABLE.
ALL-IN-ALL YOU WILL BE VERY, VERY HARD PRESSED TO LOCATE ANOTHER K/S, BATTERY POWERED, TETHERED REMOTE CONTROL POLICE CAR THAT LOOKS LIKE AND WORKS LIKE THIS ONE DOES! ADD TO THIS THE FACT THAT YOU HAVE THE ORIGINAL BOX AND NOW YOU HAVE SOMETHING THAT ANY COLLECTOR WOULD BE PLEASED AND PROUD TO ADD TO THEIR COLLECTION OF TIN , BATTERY OPERATED , ANTIQUE, LAW ENFORCEMENT, JAPANESE MODEL COLLECTION! THIS ANTIQUE, TIN, POLICE CAR IS AN EXCELLENT EXAMPLE OF A MODEL AND OF AN ERA THAT HAS LONG PASSED US BY. THIS IS A NEW STORE FOR ME HERE ON E-BAY, BUT, I COME WITH A WELL OILED AND POLISHED TRACK RECORD! I SPECIALIZE IN PRIMARILY THE AUTOMOTIVE FIELD AND I CONCENTRATE WITH/ON PORSCHE, BENTLEY, AUDI AND. I HAVE A UPS ACCOUNT AND MOST OF MY OFFERINGS HERE SHALL BE SENT THAT WAY. I PACK EACH AND EVERY ITEM MYSELF AND DO SO AS IF I WERE RECEIVING IT. WILL BE SENT VIA UPS AND WILL BE FULLY INSURED. UTILIZING THIS METHOD TO OBTAIN ONES SIGNATURE IS THE MOST ECONOMICAL ROUTE TO GO...... SO PLEASE BE PREPARED FOR THIS ON YOUR END!
IF YOU HAVE ANY PROBLEM PAYING WHAT IT COSTS TO RECEIVE THIS BEAUTIFUL AND FULLY FUNCTIONING AND COMPLETE TI N, K/S POLICE CAR. FROM ME IN A TIMELY AND SAFE MANNER, THEN ONCE AGAIN, I STRONGLY SUGGEST AND ASK THAT YOU PASS ON THIS. AS MENTIONED ABOVE, THIS IS A NEW AREA FOR ME (HERE ON E-BAY) AND I DO TRY MY BEST TO DO AS GOOD AS I CAN. THIS HAS BECOME A FULL TIME BUSINESS FOR ME AND I REALLY ENJOY DOING IT.
I WILL CONTINUE TO DO SO TILL IT BECOMES A BURDEN AND I CAN NO LONGER ENJOY IT. I WILL BE ADDING TO THIS STORE WEEKLY (OR TRYING TO) AND HOPEFULLY YOU WILL SEE THAT I DO EXACTLY WHAT I SAY AND DO SO IN A VERY TIMELY FASHION. IT IS MY INTENTION TO LIST AT LEAST ONE NEW MODEL/TOY CAR A DAY UNTIL SUCH A TIME WHEN I CONSIDER MYSELF BURNT OUT. I HAVE LITERALLY HUNDREDS OF DIFFERENT MODELS TO CHOOSE FROM. SO IT MIGHT BEHOOVE YOU TO CHECK IN WITH ME REGULARLY.
WHO KNOWS WHEN YOU MIGHT FIND THAT ONE MODEL/TOY THAT WILL COMPLETE YOUR COLLECTION! THIS IS WHERE I THANK YOU FOR YOUR TIME IN READING ALL OF THE ABOVE. IN ORDER TO VIEW MY LISTINGS IN A CONCISE AND ORDERLY FASHION, ALL YOU NEED DO IS TO LOCATE THAT SMALL.
DOOR A TOP THIS PAGE. THIS IS LOCATED JUST BELOW MY SELLERS ID AND FEEDBACK TALLY.
THE VIRTUAL DOOR TO MY STORE HERE ON E-BAY! IN ORDER TO STREAMLINE YOUR SEARCH FURTHER, ONCE YOUR IN MY STORE, TO THE LEFT YOU WILL SEE A "SEARCH" BAR, IF YOU'D LIKE TO SEE JUST MY MODEL CARS, JUST TYPE IN "MODEL CAR" AND JUST MY LISTED MODEL CARS WILL POP-UP. IF YOU'D LIKE TO SEE SOME LP'S...
I THINK YOU GET THE JIST OF THIS NOW! I HAVE A LIST OF CATEGORIES THAT WILL ASSIST YOU IN STREAMLINING YOUR SEARCH AS WELL. I HAVE ADDED A NEW CATEGORY OF "ANTIQUE/VINTAGE TOYS", BE SURE TO CHECK THIS ONE OUT! ONCE AGAIN, I THANK YOU FOR YOUR CONSIDERATIONS ON THIS EVER-SO-LIGHTLY USED, ANTIQUE, TIN, WORKING, TETHERED BATTERY OPERATED K/S POLICE CAR I N ITS ORIGINAL BOX AND FOR ANY OTHER CONSIDERATIONS THAT YOU MIGHT HAVE GIVEN ME IN THE PAST.....
IF YOU HAVE ANY ISSUES WITH DHL, PLEASE LET THIS BE KNOWN FROM THE START AND WE WILL SEEK ALTERNATIVE OPTIONS. This item is in the category "Toys & Hobbies\Electronic, Battery & Wind-Up\Battery Operated\Pre-1970".911" and is located in this country: US.
This item can be shipped worldwide.
Custom Bundle: No
Location: 4D
Age Level: 3-4 Years
Material: METAL (OR TIN)
Year: CIRCA LATE 1960'S
Country of Manufacture: Japan
THIS B/O POLICE CAR WAS/IS:: MADE BY K/S OUT OF JAPAN.
Brand: K/S JAPAN
Gender: UNI-SEX & COLLECTORS
Theme: Police
Character Family: NONE

---