TAIYO VINTAGE, TIN RUSHER FORD MUSTANG MACH1 WINNER CAR With BOX! FULLY WORKING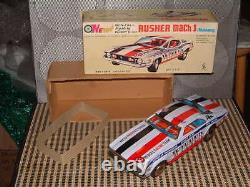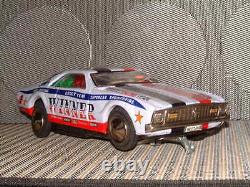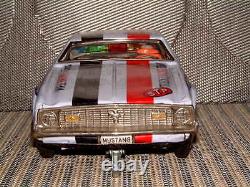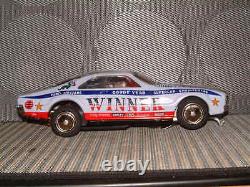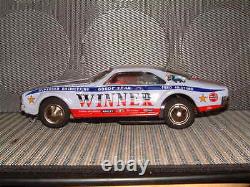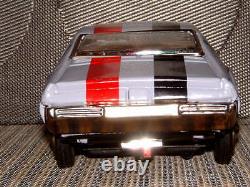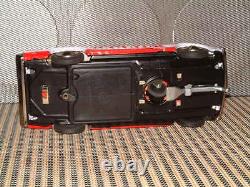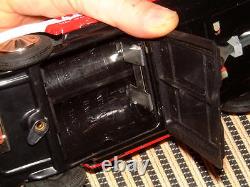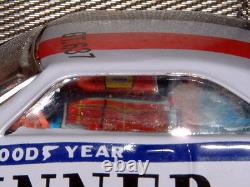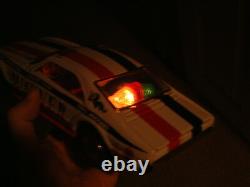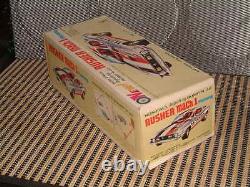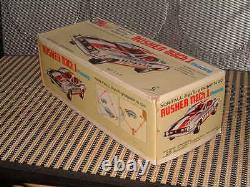 THIS IS TAIYO'S MODEL NUMBER: SC-117 AND TO MAKE THIS EVEN A SWEETER DEAL... HERE WE HAVE THE ORIGINAL BOX (MORE ON THIS LATER).
VLUWOB = V ERY L IGHTLY U SED W ITH O RIGINAL B OX. I PICKED THIS MODEL UP IN CHICAGO BACK IN THE LATE 1980'S FROM A FRIEND OF MINE WHO HAD A HUGE COLLECTION OF VINTAGE MODELS/TOYS FROM JAPAN. HAVING HUNDREDS OF MODEL CARS TO CHOOSE FROM, MOSTLY PORSCHE AND CORVETTES, I HAVE DECIDED TO START LISTING SOME OF THESE HERE ON E-BAY. 95% OF THESE ARE ONE-OF-A-KINDS LISTINGS AND I WILL DO MY BEST TO SHOW YOU AN ARRAY OF PICTURES AND DESCRIBE THEM TO THE BEST OF MY ABILITY.
THIS TAIYO RUSHER MACH1 IS NO EXCEPTION TO THIS RULE! T HE EXACT DATE THIS WAS MADE/OFFERED ELUDES ME, BUT IF I WERE TO GUESS, I WOULD SAY THIS IS FROM THE MID TO LATE 19 7 0'S.
ALL OF THE GRAPHICS/DETAILS ON THIS BODY ARE DONE VIA TIN LITHOGRAPHY WHICH ARE PRINTED ON (NOT STICKERS) THE TIN BODY AND THEN STAMPED INTO THE SHAPE THAT YOU SEE BEFORE YOU. ALL OF THESE SHOW NO DISCOLORATION, WEAR OR IMPERFECTIONS. THE BODY IS MADE FULLY OF TIN AND IN ALL AROUND EXCELLENT CONDITION/SHAPE.
YOU HAVE NO DINGS, CREASES OR DIMPLES FOUND ANYWHERE ON THIS FULL TIN BODY. NO WHERE ON THIS ENTIRE CAR DO YOU HAVE ANY RUST OR CORROSION. THE WINDSHIELD, REAR WINDOW MOLDING, FRONT AND REAR BUMPERS AND WHEELS ARE STILL SHINY AND CHROMED.
YOU HAVE NO DISCOLORATION OR TARNISH ON ANY OF THESE FACTORY CHROMED PIECES. THE BODY IS IN THE VERY RARE AND UNUSUAL RUSHER "RED WHITE AND BLUE" FORMAT. ALL OF THE "GLASS" REALLY PLASTIC IS ORIGINAL TO THIS MACH1! THIS PARTICULAR MODEL DOES HAVE ONE (1) SLIGHT IMPERFECTION ON THE DRIVERS SIDE WINDOW. I HAVE NO CLUE AS TO HOW THIS BLEMISH ARRIVED HERE, BUT IT'S HERE, SO I FEEL COMPELLED TO POINT THIS OUT. I WILL TRY TO SHOW THIS IN MY PICTURES, THE INTERIOR IS IN PERFECT CONDITION (AS IT'S SEALED) AND THIS IS ALSO DONE VIA TIN LITHOGRAPHY. THE STEERING WHEEL IS ORIGINAL AS IS EVERYTHING THAT YOU SEE AND CAN NOT SEE! ALL FOUR (4) TIRES ARE MADE FROM A SOMEWHAT PLIABLE/SOFT RUBBER, AS THEY WERE DESIGNED TO BE. THEY HAVE NO FLAT SPOTS, CR ACKS, DISCOLORATION OR DRY ROT AND THEY ARE ALL PERFECTLY ROUND! THE HUB CAPS LOOK LIKE NEW AND ARE ALSO ORIGINAL TO THIS MACH1. ALL FOUR (4) WHEELS SPIN FREELY AS THIS VEHICLE IS PROPELLED VIA THE "MYSTERY" FIFTH WHEEL! THE CHASSIS IS 100% TIN EXCEPT FOR THE BATTERY COMPARTMENTS COVER WHICH IS PLASTIC.
INSIDE OF THE BATTERY CASE IS LIKE N EW. NO CORROSION EXISTS AND THE TERMINALS ARE CLEAR OF ANY DEFECTS. YOU HAVE NO ISSUES ANYWHERE ON THE CHASSIS OR BATTERY COVER.
THE "ON/OFF" SWITCH IS ALSO LOCATED AT THE REAR OF THE CHASSIS, IT WORKS PERFECTLY AND IS NOT LOOSE. THE "FIFTH" WHEEL IS ALSO LOCATED HERE ON THE CHASSIS AND IS BETWEEN THE FRONT TIRES AND IS PERFECTLY ROUND AND HAS NO OPERATIONAL ISSUES. IT WORKS EXACTLY AS DESIGNED!
H ERE'S THE KICKER WITH THIS MACH1, THIS IS ONE OF THE ONLY EXAMPLES THAT I HAVE EVER SEEN WITH THE CORRECT FRONT GRILL! MOST TO ALL OF THESE MACH1'S HAVE AN OLDSMOBILE FRONT GRILL!! HERE YOU HAVE THE CORRECT FORD MUSTANG MACH1 GRILL!
THE BOX IS ORIGINAL AND IS IN GOOD TO VERY GOOD OVERALL SHAPE/CONDITION. IT IS COMPLETE, BUT YOU DO HAVE A COUPLE OF SMALL TEARS ON SOME OF THE EDGES. NO TAPE OR GLUE HAS EVER BEEN ADDED, BUT, IT DOES HAVE SOME SHELF RASHING. THIS BOX HAS ALL BUT ONE (1) ORIGINAL STAPLES HOLDING THE LID TOGETHER. IT APPEARS THAT A REPLACEMENT STAPLE WAS ADDED AT SOME POINT IN TIME.
YOU ALSO HAVE THE ORIGINAL PROTECTION FOR THE ROOF WHICH LOOKS TO HAVE DONE IT'S JOB AS THE CARS ROOF IS IN REALLY GOOD OVERALL SHAPE AS WELL. AFTER ALL JUST HOW DIFFICULT IS IT TO TEST A MODEL? ALL ONE NEED DO IS TO TOSS IN A FEW BATTERIES AND GIVE IT A GO, OR A SIMPLE PUSH TO SEE IF THE FRICTION DRIVE IS WORKING! THIS TIN TAIYO RUSHER MACH1 IS FULLY TESTED (AND WORKS PERFECTLY) AND WILL BE FULLY TESTED ONCE MORE, JUST PRIOR TO SENDING IT OFF. I DO THIS TWICE, JUST TO MAKE SURE THAT THE FIRST TESTING WAS NOT A FLUKE!
HERE'S HOW IT WORKS... YOU SIMPLY OPEN THE BATTERY BOX LOCATED ON THE CHASSIS AND INSTALL TWO (2) SIZE "D" BATTERIES (NOT INCLUDED). SWITCH THE VEHICLE TO "ON" AND PLACE IT DOWN ON ANY COUNTER OR TABLE TOP (OR HARD & LEVEL SURFACE)...
THIS VEHICLE HAS AN EXCELLENT "NON-FALL" ACTION AND HANDLES CURVED EDGES VERY WELL. THE MYSTERY BUMP'N GO ACTION WORKS EQUALLY WELL. PLEASE KEEP IN MIND THAT NONE OF THESE VINTAGE BATTERY OPERATED NON-FALL/BUMP' N GO ACTION MODELS HAVE BEEN DESIGNED TO RUN ON CARPET AND DO NOT ATTEMPT TO PLACE IT ON ANY CARPET AS CHANCES ARE, IT WOULD DAMAGE IT'S INTERNAL DRIVE. ALL THE TIME THIS MACH1 IS POWERED UP, THE LIGHT IN THE REAR WINDOW BLINKS. I TAKE PRIDE IN MY MODELS THAT I OFFER HERE IN THE E-BAY WORLD.
I DO HAVE OPTIONS AND I CHOOSE TO OFFER ONLY THE VERY FINEST THAT I HAVE AVAILABLE. ALL-IN-ALL YOU WILL BE VERY, VERY HARD PRESSED TO LOCATE ANOTHER TAIYO RUSHER FORD MUSTANG MACH1 T HAT LOOKS LIKE AND WORKS LIKE THIS ONE DOES!
ADD TO THIS THE FACT THAT THIS MODEL WORKS PERFECTLY AND YOU HAVE THE ORIGINAL BOX WITH FACTORY ORIGINAL PROTECTIVE INSERT AND THE CORRECT FRONT GRILL AND NOW YOU HAVE SOMETHING THAT ANY COLLECTOR WOULD BE PLEASED AND PROUD TO ADD TO THEIR COLLECTION OF TIN, BATTERY OPERATED , ANTIQUE AND/OR VINTAGE, FORD, AMERICAN MUSCLE CARS, JAPANESE OR AMERICAN MODEL COLLECTION! ONCE AGAIN, PLEASE TAKE A GOOD LOOK AT THESE PICTURES AND IF YOU HAVE ANY QUESTIONS OR DESIRE ADDITIONAL PICTURES, PLEASE FEEL FREE TO CONTACT ME VIA E-BAY MESSAGING AND I WILL DO THE REST! IS AN EXCELLENT EXAMPLE OF A MODEL AND OF AN ERA THAT HAS LONG PASSED US BY. SO I GUESS ONE COULD CONSIDER THIS A "RARE" OFFERING WITHOUT IT COMING BACK AT YOU! THIS IS A RELATIVELY NEW STORE FOR ME HERE ON E-BAY, BUT, I COME WITH A WELL OILED AND POLISHED TRACK RECORD! I SPECIALIZE IN PRIMARILY THE AUTOMOTIVE FIELD AND I CONCENTRATE WITH/ON PORSCHE, BENTLEY, AUDI AND. I HAVE A UPS ACCOUNT AND MOST OF MY OFFERINGS HERE SHALL BE SENT THAT WAY. I PACK EACH AND EVERY ITEM MYSELF AND DO SO AS IF I WERE RECEIVING IT. UNFORTUNATELY, IN THE PAST I HAVE HAD A FEW RUN-IN'S WITH SOME SCRUPULOUS BUYERS, WHO BY THEIR VERY NATURE DO NOT PLAY WELL WITH OTHERS. AS MENTIONED ABOVE, THIS IS A NEW AREA FOR ME (HERE ON E-BAY) AND I DO TRY MY BEST TO DO AS GOOD AS I CAN.
THIS HAS BECOME A FULL TIME BUSINESS FOR ME AND I REALLY ENJOY DOING IT. I WILL CONTINUE TO DO SO TILL IT BECOMES A BURDEN AND I CAN NO LONGER ENJOY IT.
I WILL BE ADDING TO THIS STORE WEEKLY (OR TRYING TO) AND HOPEFULLY YOU WILL SEE THAT I DO EXACTLY WHAT I SAY AND DO SO IN A VERY TIMELY FASHION. INTERNATIONAL BUYERS, PLEASE READ THE VERY BOTTOM OF THIS SECTION AS IT DOES APPLY TO YOU...... I ALSO HAVE THIS "RUSHER MACH1 MUSTANG" IN THE MOTIF OF "USA-1" AS WELL. IT IS MY INTENTION TO LIST AT LEAST ONE NEW MODEL/TOY CAR A DAY UNTIL SUCH A TIME WHEN I CONSIDER MYSELF BURNT OUT. I HAVE LITERALLY HUNDREDS OF DIFFERENT MODELS TO CHOOSE FROM.
SO IT MIGHT BEHOOVE YOU TO CHECK IN WITH ME REGULARLY. WHO KNOWS WHEN YOU MIGHT FIND THAT ONE MODEL/TOY THAT WILL COMPLETE YOUR COLLECTION!
THIS IS WHERE I THANK YOU FOR YOUR TIME IN READING ALL OF THE ABOVE. IN ORDER TO VIEW MY LISTINGS IN A CONCISE AND ORDERLY FASHION, ALL YOU NEED DO IS TO LOCATE THAT SMALL. DOOR A TOP THIS PAGE. THIS IS LOCATED JUST BELOW MY SELLERS ID AND FEEDBACK TALLY.
THE VIRTUAL DOOR TO MY STORE HERE ON E-BAY! IN ORDER TO STREAMLINE YOUR SEARCH FURTHER, ONCE YOUR IN MY STORE, TO THE LEFT YOU WILL SEE A "SEARCH" BAR, IF YOU'D LIKE TO SEE JUST MY MODEL CARS, JUST TYPE IN "MODEL CAR" AND JUST MY LISTED MODEL CARS WILL POP-UP. IF YOU'D LIKE TO SEE SOME LP'S...
I THINK YOU GET THE JIST OF THIS NOW! I HAVE A LIST OF CATEGORIES THAT WILL ASSIST YOU IN STREAMLINING YOUR SEARCH AS WELL. I HAVE ADDED A NEW CATEGORY OF "ANTIQUE/VINTAGE TOYS", BE SURE TO CHECK THIS ONE OUT! ONCE AGAIN, I THANK YOU FOR YOUR CONSIDERATIONS ON THIS EVER-SO-LIGHTLY USED, VINTAGE, TIN, FULLY WORKING, BATTERY OPERATED TAIYO, "RUSHER FORD MUSTANG MACH1" WHICH IS STILL IN IT'S ORIGINAL BOX WITH IT'S ORIGINAL PROTECTIVE INSERT AND FACTORY CORRECT FRONT GRILL AND FOR ANY OTHER CONSIDERATIONS THAT YOU MIGHT HAVE GIVEN ME IN THE PAST..... This item is in the category "Toys & Hobbies\Vintage & Antique Toys\Tin\Vehicles".
911" and is located in this country: US. This item can be shipped worldwide.
Brand: TAIYO
Year: CIRCA MID 1970'S
Gender: UNISEX & COLLECTORS
Country/Region of Manufacture: Japan
THIS IS AN ORIGINAL RELEASE: OF THIS CLASSIC RUSHER MUSTANG MACH1!
TAIYO MODEL NUMBER:: SC-117.



---