NOMURA TIN, LITE-O-WHEEL BATTERY POWERED GO KART 100% OPERATIONAL WithBOX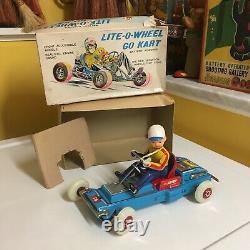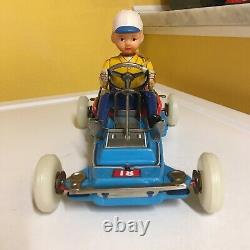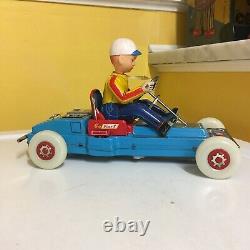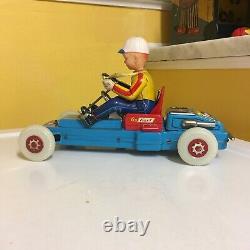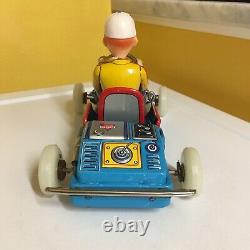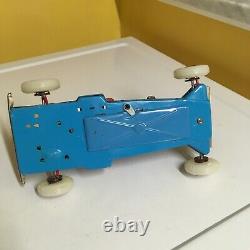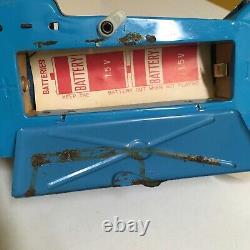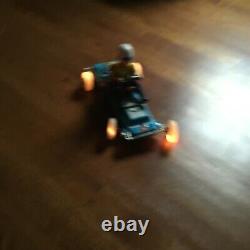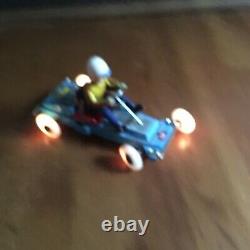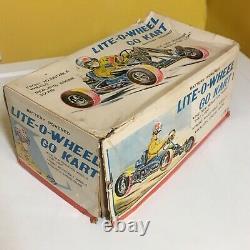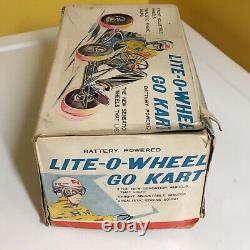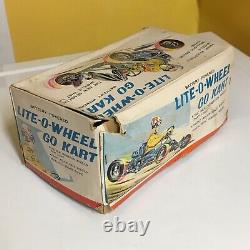 THE KICKER HERE IS THAT THIS GO KART WORKS LIKE NEW AND ALL OF THE ORIGINAL FEATURES STILL WORK PERFECTLY. THIS GO KART HAS SOME COOL AND UNIQUE FEATURES, BELOW IS A LIST OF THESE FEATURES THAT ALL STILL WORK!!
MADE OF PRESSED TIN (METAL). BATTERY POWERED USES 2 SIZE "D" BATTERIES (NOT INCLUDED).
TIN DRIVER W/DETACHABLE RUBBER HEAD (FACTORY ATTACHED TO CORD). REALISTIC ENGINE SOUND (SORT OF WEAK). STEERABLE FRONT WHEELS (MANUALLY DONE).
ALL FOUR WHEELS LITE UP WHEN POWERED UP AND PLACED ON GROUND AND. HAS A STRONG ELECTRIC MOTOR WITH FORWARD DRIVE ONLY (NEVER HAD REVERSE). HAVING HUNDREDS (REALLY THOUSANDS) OF MODEL S TO CHOOSE FROM, MOSTLY PORSCHE AND CORVETTES, I HAVE DECIDED TO START LISTING SOME OF THESE HERE ON E-BAY.
90% OF THESE ARE ONE-OF-A-KINDS LISTINGS AND I WILL DO MY BEST TO SHOW YOU AN ARRAY OF PICTURES AND DESCRIBE THEM TO THE BEST OF MY ABILITY. THIS COOL, TIN, BATTERY OPERATED GO KART IS NO EXCEPTION TO THIS RULE. THIS GO KART IS SLIGHTLY LONGER THEN 10 INCHES (26CM) LONG AND IS 5 1/2 INCHES (14CM) WIDE. AS YOU CAN SEE FROM MY PICTURES, YOU HAVE NO RUST OR CORROSION FOUND ANYWHERE ON THE BODY. YOU HAVE NO DINGS, CREASES OR DIMPLES ON THE BODY. THE CHROME THROUGHOUT THIS GO KART HAS NO RUST OR TARNISH FOUND ANYWHERE! IT'S ALL STILL SHINY AND IS IN PRISTINE SHAPE/CONDITION. ON THE BOTTOM OF THE BATTERY COMPARTMENTS COVER, YOU HAVE SOME FRICTION WEAR SHOWING HERE AND SOME SUPERFICIAL RUST HAS APPEARED (BATTERY LEAKED). THIS RUST HAS BEEN HERE FOR AT LEAST AS LONG AS I CAN REMEMBER AND HAS GOTTEN NO WORSE. IT'S NOT THAT BAD, BUT I DO FEEL COMPELLED TO POINT THIS OUT.... ALL OF THE GRAPHICS ARE DONE VIA TIN LITHOGRAPHY, SO THIS MEANS THAT THEIR HERE TO STAY.
ALL OF THE COLORS ARE STILL SHARP AND POP VERY NICELY. THE DRIVER IS ALSO MADE OF PRESSED METAL AND IS FIRMLY GRASPING THE STEERING WHEEL WITH BOTH FEET WELL ATTACHED TO THE FLOOR BOARD (HE'S NOT GOING ANYWHERE). HIS HEAD IS MADE OF A SOFT PLASTIC AND THIS HAS BEEN FACTORY ATTACHED TO A NYLON CORD WHICH IS ATTACHED TO THE STEERING WHEEL.
I WOULD BET THAT THIS HEAD WOULD HAVE BEEN LOST DECADES AGO IF IT WEREN'T FOR THIS CORD! THIS EASILY ATTACHES AND DETACHES FOR STORAGE WITHIN IT'S ORIGINAL BOX. THE DRIVERS HEAD DOES HAVE SOME DIRT (DISCOLORATION) ON IT, I DID NO ATTEMPT TO CLEAN THIS..... I WILL LEAVE THAT UP TO THE NEW OWNER.
THE CHASSIS IS IN VERY GOOD TO EXCELLENT SHAPE AND HAS SOME MINOR SIGNS OF USAGE, LIKE SOME VERY SHALLOW SCRATCHES HERE AND THERE. THIS IS A USED, VINTAGE MODEL THAT IS IN VERY GOOD TO EXCELLENT OVERALL SHAPE/CONDITION! AGAIN, YOU HAVE THAT AREA OF CONCERN ON THE BATTERY COMPARTMENTS DOOR. THE ORIGINAL BOX IS IN FAIR OVERALL SHAPE. IT DOES HAVE CREASES FOUND THROUGHOUT THE TOP AND YOU ALSO HAS A DEPRESSION FOR HAVING BOXES PLACED ON TOP OF IT.
YOU HAVE A TEAR ON THE LIDS RIGHT REAR CORNER AND THE SEAM ON THE FRONT LEFT IS TORN. YOU HAVE NO ADDED TAPE OR GLUE FOUND OR USED ON THE BOX (TOP AND/OR BASE). THE GRAPHICS STILL POP NICELY AND DISPLAYS WELL WITH THE GO-KART.
THIS IS A VERY SIMPLE AND BASIC MODEL TO OPERATE. AFTER OPENING THE BOX AND PLACING ON THE DRIVERS HEAD, YOU OPEN THE BATTERY COMPARTMENT LOCATED ON THE CHASSIS AND INSERT THE TWO (2) SIZE "D" BATTERIES (AGAIN, NOT INCLUDED). THE TIN BATTERY LID AND PLASTIC LOCKING TAB ARE IN EXCELLENT SHAPE AND WORK WELL TO SECURE THESE BATTERIES IN PLACE. NOW PLACE THIS MODEL ON A HARD SURFACE.....
KEEP IN MIND THAT MOST TO ALL VINTAGE MODELS WERE MADE TO BE PLACED ON A HARD SURFACE AND NOT ON A CARPET. CARPET WAS NOT A POPULAR ITEM BACK IN 1960'S AND EARLY 1970'S AS IT WAS DEEMED A LUXURY AND VERY COSTLY WHEN COMPARED TO LINOLEUM FLOORING. SO WITH THIS PLACED ON A LEVEL HARD SURFACE, YOU NOW SWITCH THIS ON BY MOVING THE LONG LEVER TO THE RIGHT OF THE DRIVER FORWARD.
THIS WILL START THE GO KART GOING FORWARD AND YOU WILL SEE THE WHEELS LIGHT UP AND HEAR THAT LIGHT "ENGINE NOISE". SOMETIMES IF YOU HOLD THIS GO KART OFF THE GROUND, SOME OF THE WHEEL LIGHTS WILL FLICKER OFF AND ON. THIS IS COMMON AS I HAVE A FEW OF THESE MODELS AND THEY ALL USE THE WEIGHT OF THIS MODEL TO FORCE CONTACT WITH THE ELEMENT LOCATED WITHIN THE WHEELS. SO PLACEMENT ON THE GROUND IS NECESSARY TO HAVE THIS MODEL OPERATE CORRECTLY.
ALSO YOU WILL NOTICE THAT THIS MODEL WILL NOT RUN TOO WELL IF PLACED ON SOME CARPETS. THE TIRES ARE MADE OF A HARD PLASTIC AND BEING A SOMEWHAT LIGHT MODEL, THESE TIRES WILL NOT GRIP TOO WELL ON ANYTHING OTHER WHAT THEIR DESIGNED FOR..... AND THAT'S A HARD LEVEL SURFACE.
AS I JUST MENTIONED, I HAVE TWO (2) OF THESE LEFT AND I WILL LIST THESE ONLY ONE-AT-A-TIME AS THESE ARE UNIQUE AND VARY VERY SLIGHTLY IN OVERALL CONDITION/SHAPE. SO A SERIES OF PICTURES WILL HAVE TO BE TAKEN FOR THE NEXT ONE OF THESE THAT I LIST AFTER THIS ONE SELLS OFF. HOW DIFFICULT IS IT TO ADD BATTERIES OR TO WIND UP A TOY? I TEST ALL OF MY LISTINGS (IF APPLICABLE), TWICE!
ONCE, WHEN I OPT TO LIST IT AND AGAIN PRIOR TO ME SENDING IT OFF. THIS IS THE ONLY WAY I WILL DO THINGS AND THE ONLY WAY I HAVE DONE THINGS HERE ON E-BAY!
AND AS I JUST MENTIONED, THIS NOMURA GO KART IS FULLY TESTED AND RUNS AS IT IS DESIGNED TO OPERATE WITH NO ISSUES. I DO HAVE 2 OF THESE IN IDENTICAL CONDITION. THIS IS THE UNIT THAT YOU WILL BE RECEIVING FROM ME. WHEN THIS ONE SELLS OFF, I WILL TAKE A SERIES OF PICTURES OF THE SECOND GO-KART AND REPLACE THESE PHOTOS. THE BOX IS THE PRIMARY DIFFERENCE. THIS IS A RELATIVELY NEW STORE FOR ME HERE ON E-BAY, BUT, I COME WITH A WELL OILED AND POLISHED TRACK RECORD! I SPECIALIZE IN PRIMARILY THE AUTOMOTIVE FIELD AND I CONCENTRATE WITH/ON PORSCHE, BENTLEY, AUDI AND. I HAVE A UPS ACCOUNT AND MOST OF MY OFFERINGS HERE SHALL BE SENT THAT WAY.
I PACK EACH AND EVERY ITEM MYSELF AND DO SO AS IF I WERE RECEIVING IT. THIS NOMURA GO KART WILL BE SENT VIA UPS AND IT SHALL BE FULLY INSURED.
UNFORTUNATELY, IN THE PAST I HAVE HAD SOME RUN-IN'S WITH SOME SCRUPULOUS FOLKS WHO BY THEIR VERY NATURE "DO NOT PLAY WELL WITH OTHERS". SO PLEASE DO NOT FAULT ME WHEN IT'S TIME TO LEAVE YOUR FEEDBACK AS I HAVE NO MORE CONTROL OVER THIS THEN YOU DO! SO PLEASE BE PREPARED FOR THIS ON YOUR END! INTERNATIONAL BUYERS, PLEASE READ THE VERY BOTTOM OF THIS SECTION AS THIS DOES APPLY TO YOU... LATE LAST WEEK, I SO LD A FEW OF MY NE W LY LIST ED MODELS , SO IT MIGHT TAKE SOME TIME TO GET AHEAD HERE!
BE SURE TO CHECK ME OUT OFTEN AS YOU'LL NEVER KNOW WHEN YOU MIGHT SEE THA T SOMETHING SPECIAL WHICH MIGHT JUST FILL THAT VOID IN YOUR PERSONAL COLLECTION! WHAT A NICE GIFT THIS TIN GO CART WOULD MAKE!! YOU'LL BE HARD PRESSED TO EVER LOCATE ANOTHER ONE OF THESE IN ANY CONDITION, LET ALONE ONE THAT WORKS LIKE THIS ONE DOES AND STILL HAS IT'S ORIGINAL BOX!
THIS IS WHERE I THANK YOU FOR YOUR TIME IN READING ALL OF THE ABOVE. IN ORDER TO VIEW MY LISTINGS IN A CONCISE AND ORDERLY FASHION, ALL YOU NEED DO IS TO LOCATE THAT SMALL. DOOR A TOP THIS PAGE. THIS IS LOCATED JUST BELOW MY SELLERS ID AND FEEDBACK TALLY.
THE VIRTUAL DOOR TO MY STORE HERE ON E-BAY! IN ORDER TO STREAMLINE YOUR SEARCH FURTHER, ONCE YOUR IN MY STORE, TO THE LEFT YOU WILL SEE A "SEARCH" BAR, IF YOU'D LIKE TO SEE JUST MY MODEL CARS, JUST TYPE IN "MODEL CAR" AND JUST MY LISTED MODEL CARS WILL POP-UP.
IF YOU'D LIKE TO SEE SOME LP'S... I THINK YOU GET THE GIST OF THIS NOW! I HAVE A LIST OF CATEGORIES THAT WILL ASSIST YOU IN STREAMLINING YOUR SEARCH AS WELL.
A NEW CATEGORY HAS BEEN ADDED WHICH IS "VINTAGE/ANTIQUE TOYS", BE SURE TO CHECK THIS OUT! ONCE AGAIN, I THANK YOU FOR YOUR CONSIDERATIONS ON THIS VERY RARE, EVER-SO-LIGHTLY USED, TIN , BATTERY POWERED, NOMURA GO CART WITH IT'S ORIGINAL BOX (WITH MINOR ISSUES) & IS FULLY TESTED AND 100% OPERATIONAL A ND FOR ANY OTHER CONSIDERATIONS THAT YOU MIGHT HAVE GIVEN ME IN THE PAST..... The item "NOMURA TIN, LITE-O-WHEEL BATTERY POWERED GO KART 100% OPERATIONAL WithBOX" is in sale since Sunday, May 19, 2019. This item is in the category "Toys & Hobbies\Electronic, Battery & Wind-Up\Battery Operated\Pre-1970".911" and is located in Coventry, Rhode Island.
This item can be shipped worldwide.
Modified Item: No
Country/Region of Manufacture: Japan
Custom Bundle: No
Material: PRESSED TIN (METAL)
Theme: Cars
Gender: UNISEX & COLLECTORS
THIS NOMURA GO~KART IS 100%: OPERATIONAL WITH NO ISSUES!
Location: 4BB
Year: CIRCA LATE 1960'S
Character Family: NONE
Brand: NOMURA TN TOY INDUSTRIAL CO.



---