Masudaya Lever/clockwork Action Tin Oldtimers No. 1 Car In Original Box! Working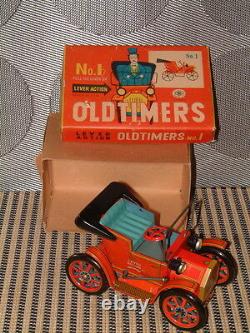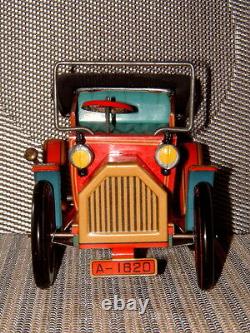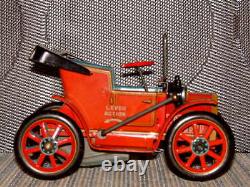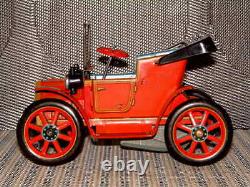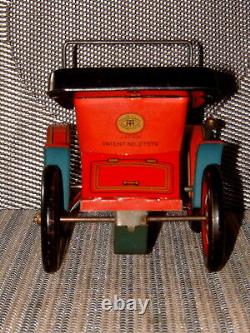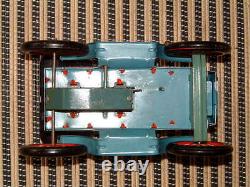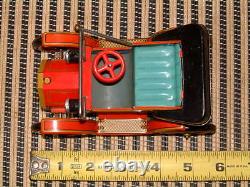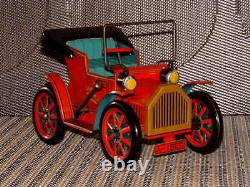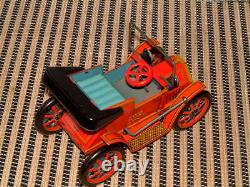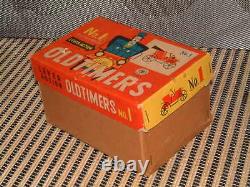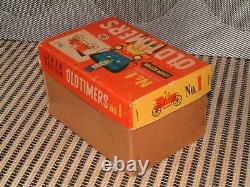 1 WHICH WAS/IS MADE BY MASUDAYA TOYS CO. TOY FACTORY WHICH IS, TO THIS DAY, BASED OUT OF TOKYO, JAPAN. HAVING HUNDREDS OF MODEL CARS TO CHOOSE FROM, MOSTLY PORSCHE AND CORVETTES, I HAVE DECIDED TO START LISTING SOME OF THESE HERE ON E-BAY. 9 5 % OF THESE ARE ONE-OF-A-KINDS LISTINGS AND I WILL DO MY BEST TO SHOW YOU AN ARRAY OF PICTURES AND DESCRIBE THEM TO THE BEST OF MY ABILITY.
1 VEHICLE IS NO EXCEPTION TO THIS R ULE! THIS MODEL HAS BEEN USED, BUT, NEVER ABUSED! DECADES AGO, THIS WAS PLACED ASIDE AND THIS HAS BEEN STORED IN IT'S ORIGINAL BOX FOR DECADES NOW. THE OPERATION OF THIS MODEL IS VERY SIMPLE AND BASIC.
KEEP IN MIND THAT COMPARED TO TODAYS TECHNOLOGY, THIS MODEL IS ANTIQUATED! BUT, BACK WHEN THIS WAS INTRODUCED, IT WAS PRETTY COOL AND IS STILL SIMPLE TO OPERATE AND A JOY TO WATCH! THIS MODEL HAS A STRONG CLOCKWORK DRIVE WHICH IS WOUND UP VIA THE BUILT-IN LEVER. NO KEY IS REQUIRED, YOU SIMPLY PULL-UP THE LEVER ON THE DRIVERS SIDE OF THE CAR.
KEEP IN MIND THAT THIS IS A RHD (RIGHT HAND DRIVE) CAR! NOTHING FANCY WITH THIS MODEL...
IT SIMPLY GOES IN ONE DIRECTION AND THAT'S STRAIGHT AHEAD. THE BODY AND CHASSIS ON THIS MODEL ARE MADE FULL Y O F METAL (PRESSED TIN) YOU HAVE NO PLASTIC FOUND ANYWHERE IN THIS MODEL. EVEN THE WHEELS ARE MADE FULLY OF TIN!
BOTH THE BODY AND THE CHASSIS DO SHOW SOME SIGNS OF PLAY WEAR AND THESE DO APPEAR AS HAIR LIKE SHALLOW SCRATCHES FOUND HERE AND THERE. YOU HAVE NO DENTS, DINGS, RUST OR CORROSION FOUND ANYWHERE ON THIS MODEL. THE BOX IS IN VERY GOOD TO EXCELLENT SHAPE FOR IT'S AGE AND DOES SHOW SOME SLIGHT WEAR FROM BEING STORED FOR A COUPLE OF DECADES...
BUT, IT IS WITHOUT ANY TEARS AND IT IS NOT COMING APART. NO TAPE OR GLUE IS USED ANYWHERE ON THE ORIGINAL BOX. ALL OF THE PRINT IS SOMEWHAT COLORFUL AND CLEAN.
ALL OF THE ORIGINAL STAPLES ARE STILL ATTACHED AND ARE HOLDING THE BOXES BASE AND LID TOGETHER. YOU DO HAVE TWO (2) SMALL PUNCTURE M ARKS FROM THE WHEELS HUBS AS THESE DO HAVE A TENDENCY TO PUNCTURE THE LID DUE TO THE FACT THAT THESE CAR ARE PLACED IN SIDEWAYS AND NOT WHEELS DOWN! JUST HOW DIFFICULT IS IT TO TEST A MODEL? ALL ONE NEED DO IS TO TOSS IN A FEW BATTERIES AND GIVE IT A GO! 1 CAR/ MODEL IS FULLY TESTED (AND WORKS PERFECTLY) AND WILL BE FULLY TESTED ONCE MORE, JUST PRIOR TO SENDING IT OFF.
I DO THIS TWICE, JUST TO MAKE SURE THAT THE FIRST TESTING WAS NOT A FLUKE! ONCE AGAIN, I JUST T ESTED THIS MODEL TODAY THE 28TH OF NOVEMBER AND IT WORKED PERFECTLY.
IT HAS A STRONG CLOCKWORK MOTOR. PLEASE TAKE A GOOD LOOK AT THESE PICTURES AND IF YOU HAVE ANY QUESTIONS OR DESIRE ADDITIONAL PICTURES, PLEASE FEEL FREE TO CONTACT ME VIA E-BAY MESSAGING AND I WILL TAKE IT FROM THERE. THIS IS A RELATIVELY NEW STORE FOR ME HERE ON E-BAY, BUT, I COME WITH A WELL OILED AND POLISHED TRACK RECORD! I SPECIALIZE IN PRIMARILY THE AUTOMOTIVE FIELD AND I CONCENTRATE WITH/ON PORSCHE, BENTLEY, AUDI AND. HAVING THOUSANDS OF ALBUMS, TONS OF MODEL CARS AND A BUNCH OF COOL ANTIQUE & VINTAGE GOODIES (MOST NON-AUTOMOBILE RELATED), I THOUGHT IT TIME TO DIVERSIFY AND OFFER SOME OF THESE UNIQUE ITEMS TO THE E-BAY WORLD. I HAVE A UPS ACCOUNT AND MOST OF MY OFFERINGS HERE SHALL BE SENT THAT WAY. I PACK EACH AND EVERY ITEM MYSELF AND DO SO AS IF I WERE RECEIVING IT. THIS LEVER ACTION OLDTIMERS NO.
UTILIZING THIS METHOD TO OBTAIN ONES SIGNATURE IS THE MOST ECONOMICAL ROUTE TO GO...... ACCORDINGLY, THIS MODEL WILL BE DECLARED AND INSURED AT T HIS AMOUNT. AS MENTIONED ABOVE, THIS IS A NEW AREA FOR ME (HERE ON E-BAY) AND I DO TRY MY BEST TO DO AS GOOD AS I CAN.
THIS HAS BECOME A FULL TIME BUSINESS FOR ME AND I REALLY ENJOY DOING IT. I WILL CONTINUE TO DO SO TILL IT BECOMES A BURDEN AND I CAN NO LONGER ENJOY IT. I WILL BE ADDING TO THIS STORE WEEKLY (OR TRYING TO) AND HOPEFULLY YOU WILL SEE THAT I DO EXACTLY WHAT I SAY AND DO SO IN A VERY TIMELY FASHION. INTERNATIONAL BUYERS PLEASE READ THE VERY BOTTOM OF THIS SECTION AS IT DOES APPLY TO YOU...... I ALSO RESERVE THE RIGHT TO SUBSTITUTE DHL AS AN INTERNATIONAL CARRIER (AT MY EXPENSE AND DISCRETION).
IT IS MY INTENTION TO LIST ONE OR TWO DIFFERENT MODELS EACH AND EVERY DAY (IF AT ALL POSSIBLE), OR UNTIL SUCH A TIME WHEN I GET BURNT OUT FROM DOING SO. IT MIGHT BEHOOVE YOU TO CHECK IN WITH ME OFTEN AS YOU'LL NEVER KNOW WHEN AND IF I WILL OFFER THAT SPECIAL SOMETHING THAT WILL ROUND OUT OR COMPLETE YOUR COLLECTION! THIS IS WHERE I THANK YOU FOR YOUR TIME IN READING ALL OF THE ABOVE. IN ORDER TO VIEW MY LISTINGS IN A CONCISE AND ORDERLY FASHION, ALL YOU NEED DO IS TO LOCATE THAT SMALL " BLUE " DOOR A TOP THIS PAGE.
THIS IS LOCATED JUST BELOW MY SELLERS ID AND FEEDBACK TALLY. THE VIRTUAL DOOR TO MY STORE HERE ON E-BAY! IN ORDER TO STREAMLINE YOUR SEARCH FURTHER, ONCE YOUR IN MY STORE, TO THE LEFT YOU WILL SEE A "SEARCH" BAR, IF YOU'D LIKE TO SEE JUST MY MODEL CARS, JUST TYPE IN "MODEL CAR" AND JUST MY LISTED MODEL CARS WILL POP-UP. IF YOU'D LIKE TO SEE SOME LP'S... I THINK YOU GET THE JIST OF THIS NOW!
I HAVE A LIST OF CATEGORIES THAT WILL ASSIST YOU IN STREAMLINING YOUR SEARCH AS WELL. I HAVE JUST ADDED A NEWER CATEGORY " ANTIQUE/VINTAGE TOYS " TO HELP KEEP SOME OF THESE MODELS SEPARATE FROM MY OTHER LISTINGS HERE. ONCE AGAIN, I THANK YOU FOR YOUR CONSIDERATIONS ON THIS LIGHTLY USED, MASUDAYA TOYS CO. LTD/MODERN TOYS LEVER ACTION OLDTIMERS NO.
1 CAR, WHICH IS STILL. IN IT'S ORIGINAL BOX.
AND FOR ANY OTHER CONSIDERATIONS THAT YOU MIGHT HAVE GIVEN ME IN THE PAST...... IF YOU HAVE ANY ISSUES WITH DHL, PLEASE LET THIS BE KNOWN FROM THE START AND WE WILL SEEK ALTERNATIVE OPTIONS. This item is in the category "Toys & Hobbies\Vintage & Antique Toys\Tin\Vehicles".911" and is located in this country: US. This item can be shipped worldwide.
Country/Region of Manufacture: Japan
Gender: UNISEX & COLLECTORS.
Year: CIRCA LATE 1960'S EARLY 1970'S.
Brand: MASUDAYA TOYS CO.



---