BANDAI FRICTION DRIVE TIN OLDS' TORONADO AMERICAN CAR SERIES WithBOX. WORKING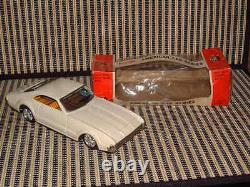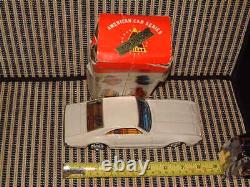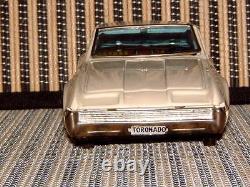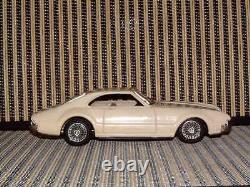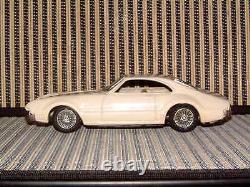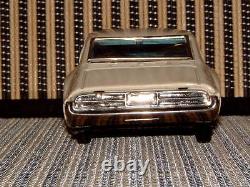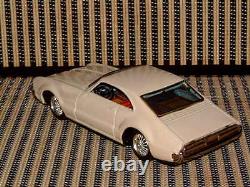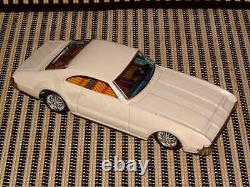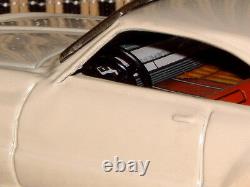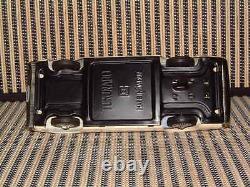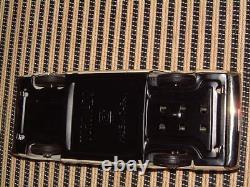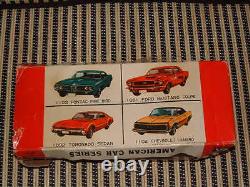 THIS IS FROM THEIR "AMERICAN CAR SERIES" WHICH IS A SCALE MODEL MADE OF A HEAVY GAUGE METAL. THIS IS ONE (1) OF THE ORIGINAL FOUR (4) IN THIS SERIES AS SO PICTURED ON THE INCLUDED ORIGINAL BOX.
V ERY L IGHTLY U SED I N O RIGINAL B OX. THIS IS ONE OF THOSE ITEMS THAT I HAD VERY LITTLE INTEREST IN IT, SO THERE I T SAT IN THE ORIGINAL BOX, UNTOUCHED TO THIS DAY! HAVING HUNDREDS (TO THOUSANDS) OF MODEL CARS TO CHOOSE FROM, MOSTLY PORSCHE AND CORVETTES, I HAVE DECIDED TO START LISTING SOME OF THESE HERE ON E-BAY. 95% OF THESE ARE ONE-OF-A-KINDS LISTINGS AND I WILL DO MY BEST TO SHOW YOU AN ARRAY OF PICTURES AND DESCRIBE THEM TO THE BEST OF MY ABILITY. THIS BANDAI TORONADO IS NO EXCEPTION TO THIS RULE!
T HE EXACT DATE THIS WAS MADE/OFFERED ELUDES ME, BUT IF I WERE TO GUESS, I WOULD SAY THIS IS FROM THE LATE'60'S TO EARLY'70'S. THIS MODEL USES A TRIED AND TRUE FRICTION DRIVE AND TESTED JUST TODAY, THE 29TH O F MAY, IT WORKS PERFECTLY WI TH NO SLIPPAGE WHAT SO-EVER!
THIS TORONADO LOOKS LIKE IT WAS JUST PAINTED YESTERDAY AND HAS NO DISCOLORATION OR BLEMISHES ON THE ORIGINAL FINISH FROM THE FACTORY. A SMALL CONCERN HERE WOULD BE THAT ON BOTH FRONT FENDERS, YOU HAVE A TINY SCRATCH WHICH HAS CAUSED THE PAINT TO COME OFF. THE WORST OF THESE IS LOCATED ABOVE THE DRIVERS SIDE FRONT TIRE. THESE HAVE BEEN ON THIS MODEL FOREVER AND UNFORTUNATELY, THEY ARE PRESENT! THE CHROME LOCATED THROUGHOUT THIS MODEL IS PERFECT WITH NO DISCOLORATION OR PITTING.
ALL F OUR (4) OF THE SPOKED HUB CAPS ARE PERFECT. ALL F OUR (4) TIRES ARE STILL PLIABLE AND HAVE NO CRACKS OR FLAT SPOTS. THE INTERIOR IS PERFECT AND MADE FROM TIN.
IN FACT, THE ONLY PLASTIC IN THIS MODEL ARE THE FOUR (4) RUBBER TIRES HUB CAPS AND STEERING WHEEL! S HAVE THE FRICTION DRIVE AND BOTH WHEELS SPIN PERFECTLY WHEN ENGAGED.
THE FRONT WHE ELS SPIN FREELY. ON THE BOTTOM YOU HAVE "TORONADO", THE "B" LOGO AND "MADE IN JAPAN" STAMPED INTO THE CHASSIS. THE ORIGINAL BOX OFFERED HERE IS NOT IN THE VERY BEST SHAPE/CONDITION. I T DOES SHOW A GOOD AMOUNT OF SHELF WEAR AS THIS HAS BEEN MOVED AROUND FROM PLACE TO PLACE. THE ORIGINAL WINDOW IS STILL IN TACT AND HAS NO CRACKS (BUT SERIOUS CREASES) AND AS I MENTIONED ABOVE, THE GLUE HAS FAILED OVER THE DECADES AND HAS BECOME DISLODGED.
THIS IS A REAL EASY FIX FOR SOMEONE TO FIX. TAPE IS USED TO HOLD ONE OF THE END FLAPS IN PLACE. YOU ALSO HAVE A COUPLE OF TEARS ON THE BOX ITSELF.
AFTER ALL JUST HOW DIFFICULT IS IT TO TEST A MODEL? ALL ONE NEED DO IS TO TOSS IN A FEW BATTERIES AND GIVE IT A GO, OR A SIMPLE PUSH TO SEE IF THE FRICTION DRIVE IS WORKING!
THIS TIN BANDAI TORONADO IS FULLY TESTED (AND WORKS PERFECTLY) AND WILL BE FULLY TESTED ONCE MORE, JUST PRIOR TO SENDING IT OFF. I DO THIS TWICE, JUST TO MAKE SURE THAT THE FIRST TESTING WAS NOT A FLUKE! I TAKE PRIDE IN MY MODELS THAT I OFFER HERE IN THE E-BAY WORLD.
I DO HAVE OPTIONS AND I CHOOSE TO OFFER ONLY THE VERY FINEST THAT I HAVE AVAILABLE. ALL-IN-ALL YOU WILL BE VERY, VERY HARD PRESSED TO LOCATE ANOTHER BANDAI MODEL 1092 TORONADO THAT LOOKS LIKE AND WORKS LIKE THIS ONE DOES! ADD TO THIS THE FACT THAT YOU HAVE THE ORIGINAL BOX AND NOW YOU HAVE SOMETHING THAT ANY COLLECTOR WOULD BE PLEASED AND PROUD TO ADD TO THEIR COLLECTION OF TIN, FRICTION DRIVE, ANTIQUE JAPANESE MODEL COLLECTION! THIS ANTIQUE BANDAI TIN OLDSMOBILE TORONADO IS AN EXCELLENT EXAMPLE OF A MODEL AND OF AN ERA THAT HAS LONG PASSED US BY. THIS IS A NEW STORE FOR ME HERE ON E-BAY, BUT, I COME WITH A WELL OILED AND POLISHED TRACK RECORD!
I SPECIALIZE IN PRIMARILY THE AUTOMOTIVE FIELD AND I CONCENTRATE WITH/ON PORSCHE, BENTLEY, AUDI AND. I HAVE A UPS ACCOUNT AND MOST OF MY OFFERINGS HERE SHALL BE SENT THAT WAY. I PACK EACH AND EVERY ITEM MYSELF AND DO SO AS IF I WERE RECEIVING IT.
UTILIZING THIS METHOD TO OBTAIN ONES SIGNATURE IS THE MOST ECONOMICAL ROUTE TO GO...... AT MY DISCRETION, I MIGHT USE DHL AS A CARRIER. SO PLEASE BE PREPARED FOR THIS ON YOUR END! AS MENTIONED ABOVE, THIS IS A NEW AREA FOR ME (HERE ON E-BAY) AND I DO TRY MY BEST TO DO AS GOOD AS I CAN. THIS HAS BECOME A FULL TIME BUSINESS FOR ME AND I REALLY ENJOY DOING IT.
I WILL CONTINUE TO DO SO TILL IT BECOMES A BURDEN AND I CAN NO LONGER ENJOY IT. I WILL BE ADDING TO THIS STORE WEEKLY (OR TRYING TO) AND HOPEFULLY YOU WILL SEE THAT I DO EXACTLY WHAT I SAY AND DO SO IN A VERY TIMELY FASHION. THIS IS THE ONLY ORIGINAL MODEL 1092 BANDAI TIN FRICTION DRIVE OLDSMOBILE TORONADO WITH IT'S ORIGINAL BOX CURRENTLY LISTED HERE ON E-BAY....
I GUESS ONE COULD SA FELY CALL THIS RARE WITHOUT THE FEAR OF THIS COMING BACK AT YOU! IT IS MY INTENTION TO LIST AT LEAST ONE NEW MODEL/TOY CAR A DAY UNTIL SUCH A TIME WHEN I CONSIDER MYSELF BURNT OUT. I HAVE LITERALLY HUNDREDS OF DIFFERENT MODELS TO CHOOSE FROM.
SO IT MIGHT BEHOOVE YOU TO CHECK IN WITH ME REGULARLY. WHO KNOWS WHEN YOU MIGHT FIND THAT ONE MODEL/TOY THAT WILL COMPLETE YOUR COLLECTION!
THIS IS WHERE I THANK YOU FOR YOUR TIME IN READING ALL OF THE ABOVE. IN ORDER TO VIEW MY LISTINGS IN A CONCISE AND ORDERLY FASHION, ALL YOU NEED DO IS TO LOCATE THAT SMALL. DOOR A TOP THIS PAGE. THIS IS LOCATED JUST BELOW MY SELLERS ID AND FEEDBACK TALLY. THE VIRTUAL DOOR TO MY STORE HERE ON E-BAY!
IN ORDER TO STREAMLINE YOUR SEARCH FURTHER, ONCE YOUR IN MY STORE, TO THE LEFT YOU WILL SEE A "SEARCH" BAR, IF YOU'D LIKE TO SEE JUST MY MODEL CARS, JUST TYPE IN "MODEL CAR" AND JUST MY LISTED MODEL CARS WILL POP-UP. IF YOU'D LIKE TO SEE SOME LP'S... I THINK YOU GET THE JIST OF THIS NOW!
I HAVE A LIST OF CATEGORIES THAT WILL ASSIST YOU IN STREAMLINING YOUR SEARCH AS WELL. I HAVE ADDED A NEW CATEGORY OF "ANTIQUE/VINTAGE TOYS", BE SURE TO CHECK THIS ONE OUT! ONCE AGAIN, I THANK YOU FOR YOUR CONSIDERATIONS ON THIS EVER SO LIGHTLY USED ANTIQUE, TIN, FRICTION DRIVE BANDAI OLDSMOBILE TORONADO IN IT'S ORIGINAL BOX AND FOR ANY OTHER CONSIDERATIONS THAT YOU MIGHT HAVE GIVEN ME IN THE PAST..... IF YOU HAVE ANY ISSUES WITH DHL, PLEASE LET THIS BE KNOWN FROM THE START AND WE WILL SEEK ALTERNATIVE OPTIONS. This item is in the category "Toys & Hobbies\Vintage & Antique Toys\Tin\Vehicles".
911" and is located in this country: US. This item can be shipped worldwide.
Brand: Bandai
Year: CIRCA LATE 60'S EARLY '70'S
Gender: UNISEX & COLLECTORS
Country of Manufacture: Japan
ORIGINAL SCALE MODEL OF A :: OLDSMOBILE TORONADO
Location: 4E

---