Alfa Romeo Alfetta 158 Autocorsa Domo With In Original Wood Box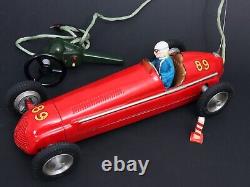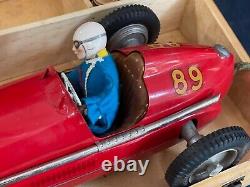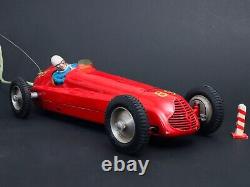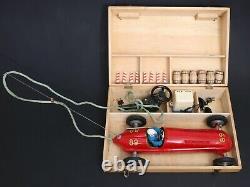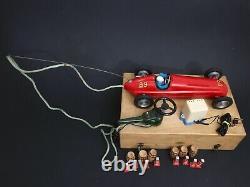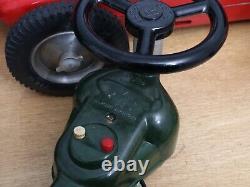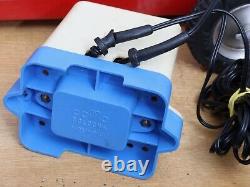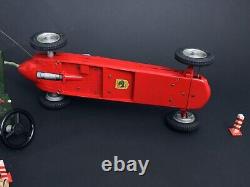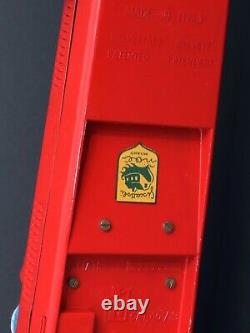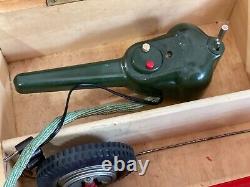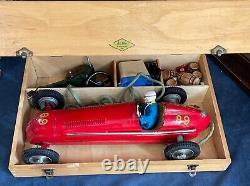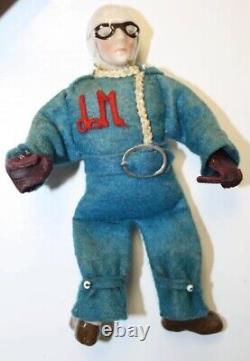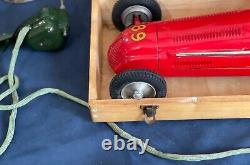 WE DO NOT SELL ANY REPRODUCTION, REEDITION OR MODERN REPRINT. Our Gallery, situated since 1994 in the center of Paris, is Specialized in Art of XX th and Curiosity, Furnitures Lamps Bronzes and Art paintings... We sell Original Vintage Posters, Enamel sign, Rare Lithography, Art Prints, Engravings, Bronzes Art Deco and Modernist, and all that is connected to Automobilia, the Nobles and Mechanical Sports, Old toys, Scientist Objects and Automat. DOMO ALFETTA 158 AUTOCORSA FILOGUIDE EN BOITE BOIS D'ORIGINE. ITALIAN RACING TOY IN PERFECT CONDITION, WITH ITS ACCESSORIES AND STEERING WHEEL, IN ITS ORIGINAL WOODEN BOX, FRONT DOMO MARKING SIZE OF THE WOOD BOX 13x46x30 cm. Domo is an Italian toy brand founded by engineers Corrado Donini and Fernando Monti (acronym Do-Mo) in Bologna in 1946. Technologically advanced for their time, Domo toys were made of cast aluminum and had their own motor which could be electric, spring or internal combustion. Remote driving was carried out via a console equipped with a steering wheel and a lever for forward and reverse. A transformer-power supply, with an eight-meter wire, brought alternating current from 110 to 220 volts directly to the motor.
The directional control of the wheels was done by operating the steering wheel, the column of which, inside the steering box, included a cam. This, while turning, pressed on two rubber balls sending air inside a tube which, inflating two rubber bulbs placed at the front, operated the steering. Top-of-the-range L'Autocorsa box with wire guidance station, complete with accessories for gymkhanas, L.
The specialist in wire-guided electric cars Domo toys were very faithful to the real models, like the Alfa Romeo "Alfetta" 158 cars, or Fiat 1100, or Fiat Topolino, or even the Ferrari 166 barquette, but also the Patton tank and even the G helicopter 55. Many were embellished with a finely crafted little pilot. Domo also produced an Autocorsa TC, equipped with a thermal engine, called internal combustion engine, the famous 2.47 cc "Supertigre G20S" built by the Micromeccanica Saturno company of Bologna. This is controlled by a cable long enough to ensure a certain distance autonomy. Its speed could reach 18 to 20 km/h, unlike the circuit models, called "Theter Cars", connected by a cable in the center of the track and whose speed could peak at 200 km/h. Prestigious pieces The beauty and the high precision of construction, gave these scale models a place of choice during exhibitions in clubs. As specified in a Domo advertisement at the time, the large lounges of luxury hotels and transatlantic liners offered them the necessary space for races and legendary gymkhanas! Such is the case of the Alfetta 158, a legendary model if ever there was one, since this racing car was driven by Nino Farina, the winner of the first FI World Championship in 1950. 16,5 X 4,7 X 6,5 (inches) / 42.0 x 12.0 x 16.5 (cm).

---