1960s Deluxe Reading Corp toy car dashboard Playmobile Works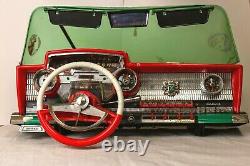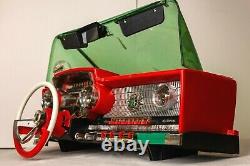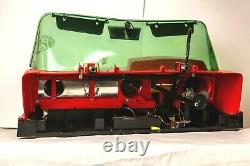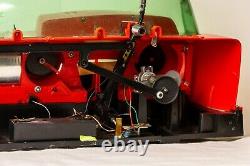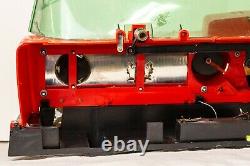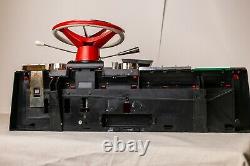 1960s Deluxe Reading Corp toy car dashboard Playmobile. Wow an working original car dashboard modeled after a real 1960s car.
Some say it is based on a 1965 Ford Fairlane. This was my personal toy I played with as a kid and it brings back a lot of memories with plenty of kid miles, and adventures.
After you install batteries you are Ready to Drive! Adjust your rear view mirror, push in the emergency brake, and sun visors since they move.
Turn the ignition key "cylinder" since the key is missing (gently use a flat 3/16 screw driver, you can also use your fingers) and lock to either right or left and the motor will sound. You are hot wiring it since the "law" took away the keys.
(Actually I lost them sorry). As you are driving with the motor sound, move the turn signal (on the left side) up for right, and down for left and the light will blink the signal marker on the dash board. If someone is going too slow you can honk at them when you press on the center of the steering wheel the "horn" will sound a buzzer. You can honk even with no motor sound since the buzzer is only switched through the horn button.
During the motor sound move the wiper switch to "ON" and the wipers will move. However the spring is weak to keep the drive gear spindle engaged so a gentle push with a pen on the gear (move to the back and watch your fingers for the moving gears) to stay. A small spring could be installed to help this action. The return to off is a weak spring so the wipers move during driving and move so when placed to "ON".
Clock knob on the right does move the hands. It has the least wear. Heating and Cooling controls sliders move using a slight upward motion. L (Low) control knob is loose and needs to be glued.
C (Cool) Control knob has scratches, Glue residue, and wear marks it does pull out of the dash. Speedometer plastic glass is broken at the 80 MPH. Oil and Gen lights do not light they are Faux lights. Temp gauge knob moves the temp needle only because the battery needle is broken and missing.
Brake lever does pull out and push in. Elmer's glue glob and residue on Fuel Gauge bezel ring. Fuel gauge knob moves the fuel needle and oil pressure.
Gear selector moves the speedometer and gear marking needle. There is a lot of wear marks on all touch areas. Sadly during a "kid" race and "crash" the right side wiper arm and antenna broke off. The "law" took away my keys. How it was stored: Dry Denver Climate. Not exposed to wet conditions, no signs of mildew, no mold, no weird odors. In the attic most of the time (after I grew out of it) so it is dusty. There is a faint smell of automotive polish since it was applied for this listing. Warning: This toy does not comply with current toy and child and people safety laws and requirements. For this listing I rewired (solder spliced and applied with heat shrink) and fixed the motor leads and main switch power wire because as a kid I de-soldered them.
Second, I attached felt moving pad feet to the bottom plastic feet rails so it does not scratch your furniture (desk etc) if you choose to display it. Third with 99% alcohol and Q-tips I cleaned and removed all of the old original grease from the gears and lightly oiled with. Fourth, I cleaned all of the contacts with electrical contact cleaner. Fifth, with a knife edge I removed most of the dried on Elmer's glue and used a can of air spray, and wiped away.
The Elmer's glue will flake off or with the help of warm water it will loosen off with patience. Sixth, I made a battery door out of plexiglass 1/8 inches thick to hold the batteries in. Once you install the batteries the plexiglass is a tight fit and slide to the holding tabs since the batteries are about 3 mm bigger than the compartment.
It will be gently taped with blue painter's tape. Lastly, I applied a light coating of automotive plastic polish (Mothers Plastic liquid finish "red bottle"). The polish helped clean the toy and remove some of the Elmer's glue. The toy will be wrapped in bubble wrap then placed on blocks of Styrofoam. The steering column will be braced with a. Block of Styrofoam to limit any stress on the actual steering wheel. The mirror will also be gently taped. The Blue 3M painters tape should not leave any or minimal tape residue. When you receive it remove, the papers, batteries (from each corner in sandwich bags), and air puff pocket packing pillows and reach your hands to the bottom and grip hold to each bottom side (right and left) edge of the toy and lift out. Lift from the base and not the top. Place your fingers underneath the toy and pull out.
Blocks of Styrofoam may follow it and drop they are not taped. Do not use the windshield as a handle. I placed a piece of cardboard on top to show where the steering wheel is. Use extra care to avoid stress or strain on the steering wheel. It is packed as you would drive it.
The Playmobile dashboard appeared around 1960, and stayed in production at least until 1965. The world's most exciting and beautiful toy! Just like a real car!
There was more: an adjustable mirror, a retractable antenna, moveable sun visors, a moving gear selector and a turnable steering wheel. So far as we've been able to determine, it wasn't modeled after any particular dashboard, but is a pastiche of late-Fifites U. According to Internet research this was made from 1960 - 1965 in the USA by the Deluxe Reading Corp. In 1958 the founder started Deluxe and created many toys.
Then in 1972 his company went bankrupt. In the early 1970s He met a Japanese engineer and they developed the Transformer toys. This early-Sixties plaything came from the mind of a man who would transform the toy industry. By Dave LaChance from April 2017 issue of Hemmings Motor News. Not responsible for any personal or property damage due to the operation this toy.
There are a lot of sharp edges, moving parts, old plastic, and exposed parts, and it does not comply with current toy and child safety laws and requirements. Responsible for any misuse of any persons of any age while operating, working on, fixing, repairing, or moving this toy. Use cation when operating these parts.
There will be a faint smell of automotive polish. The item "1960s Deluxe Reading Corp toy car dashboard Playmobile Works" is in sale since Friday, January 8, 2021.
This item is in the category "Toys & Hobbies\Vintage & Antique Toys\Other Vintage & Antique Toys". The seller is "sell4charles" and is located in Denver, Colorado. This item can be shipped worldwide.
Featured Refinements: 1960s Toy
Modified Item: No
Country/Region of Manufacture: United States
California Prop 65 Warning: Yes Possible
Year: 1960
Vintage: Yes
Character Family: driving
Age Level: 4-7
Brand: Deluxe Reading Corp

---